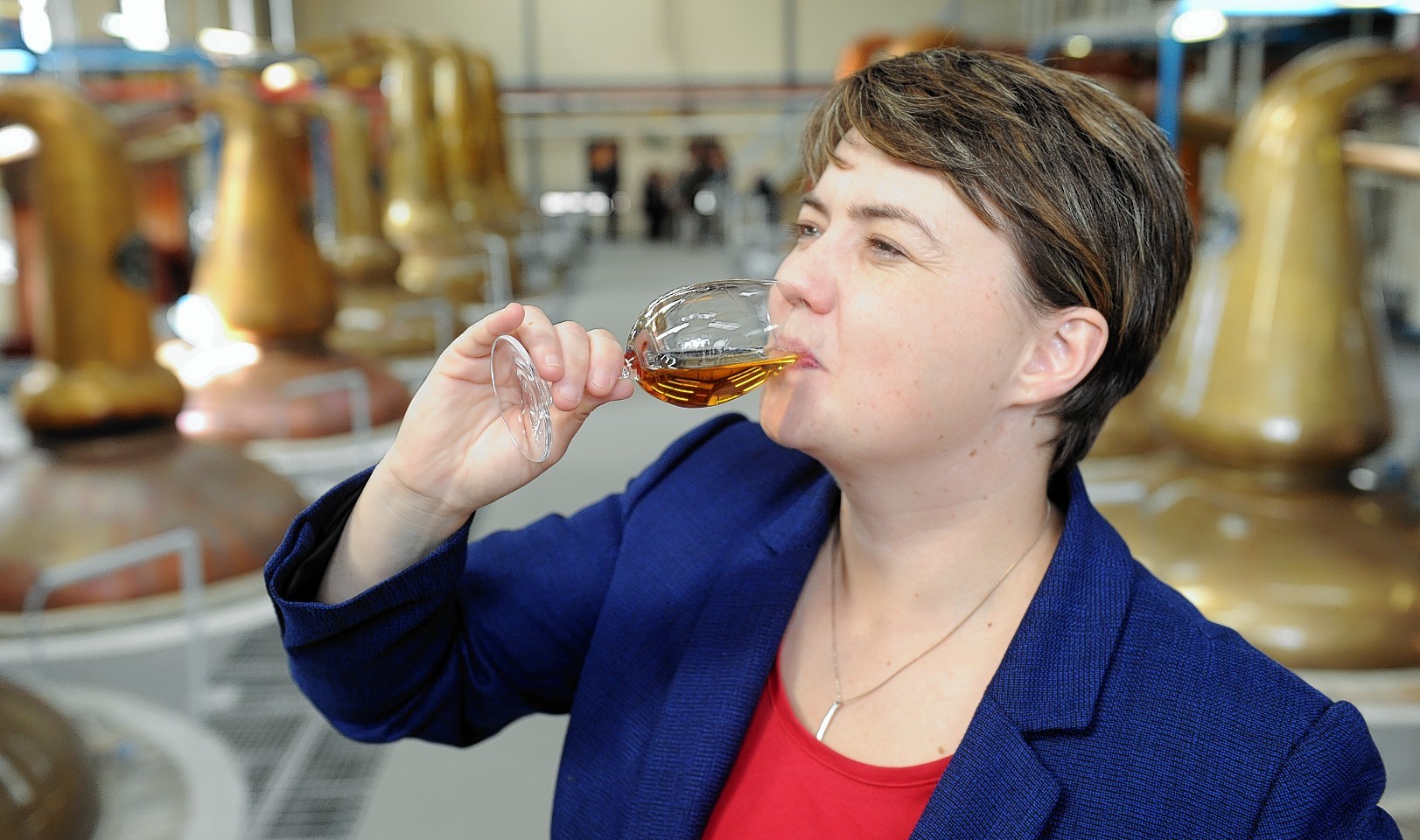 The Scottish Conservative leader yesterday labelled the televised referendum debate between Alex Salmond and Alistair Darling as a "stair heid rammy".
On a visit to Moray's Glenfiddich distillery, Ruth Davidson was asked for her views on how it had gone and responded: "For me there was an awful lot of shouting over each other and not a lot of polite discourse and laying out of facts."
Ms Davidson continued: "As a viewer I got frustrated by the stair heid rammy of it but I think over the two legs what's become clear is that lots of people have very legitimate questions about the proposition that's on the table about independence and those questions haven't been answered and it's clear that Alex Salmond has no intention of answering those questions now."
Ms Davidson, who was at Glenfiddich discussing what independence would mean for the whisky industry, said that concerns had been raised by those such as David Frost, chief executive of Scotch Whisky Association, about the question hanging over the pound sterling.
She said: "We've already seen people speaking on this such as David Frost saying the whisky industry has done very well out of having a solid tradable currency like sterling that they have huge questions that they feel have not yet been answered on this."
She added: "This is a multi billion pound business that doesn't know whether its going to be trading in pounds or not."
Ms Davidson, who got familiar with the whisky industry from a young age with her dad running a distillery, said: "I first fell in love with whisky when I was 8-years-old and my mother gave it to me on a cotton bud when I had toothache.
"I've never stopped drinking it since."
Ms Davidson spoke about the attraction of whisky around the world from countries such as China, France, and America.
She said: "Just being able to sell Scotland around the world is fantastic.
"When you've got people like David Frost saying we get to do that because we're part of a big country with 260 embassies around the world – they have real questions about whether that can be replicated.
"The SNP say they will have 70 – 90 embassies around the world compared with the 260 we currently have there's real problems of scale there.
"These are big companies who need certainty and they're still not getting it."
Ms Davidson concluded: "I think we've got a fantastic story to tell in terms of wanting to be part of a wider UK and being proud of the contribution we've made, and any success that Britain has in the world is our success too because we have helped shape it."