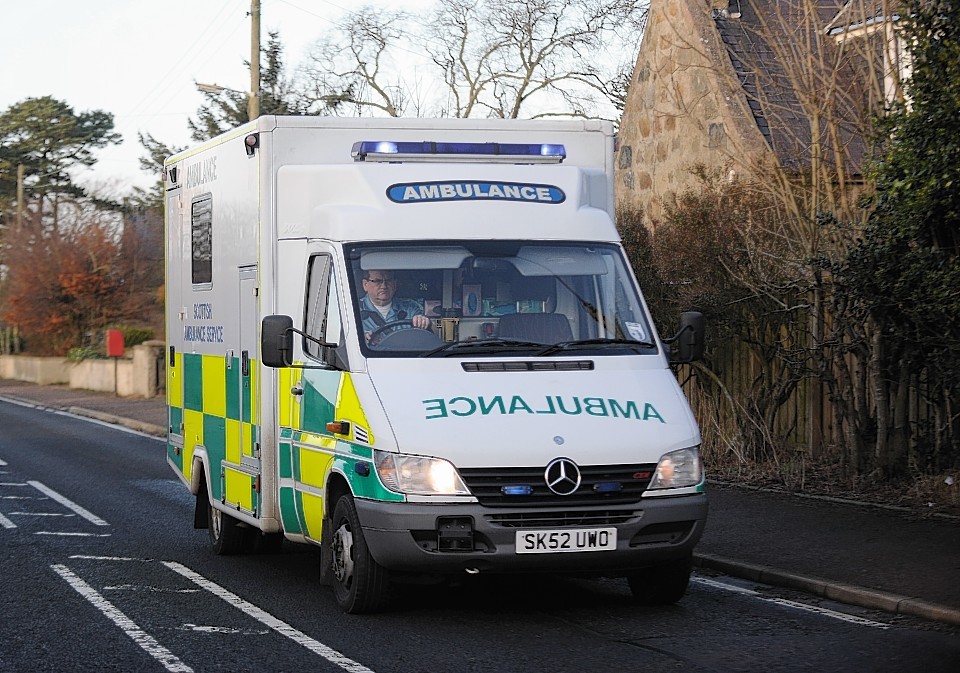 A remote Moray community's ambulance station was left unmanned for two-and-a-half days because of a staffing crisis.
Mercy chiefs had to cover the Tomintoul area from as far away as Aviemore, Ballater and Grantown as the village's depot sat empty for 62 hours.
The same station hit the headlines four years ago when a local woman suffered a cardiac arrest and died and a trainee technician chose not to respond to the 999 call.
Mandy Mathieson lived just two minutes away from the Tomintoul depot – but Owen McLauchlan was on his break when they emergency call was made and decided not to go to her aid.
An ambulance crew had to be sent from Grantown – 14 miles and a half-hour drive away.
Last night, Ms Mathieson's family claimed little had changed since her death as Scottish Ambulance Service bosses insisted they had done everything they could to try to staff the Tomintoul station at the weekend.
It was unmanned from 6pm on Friday until 8am on Monday.
An air ambulance and a crew from the Ballater station – a 50-minute, 25-mile journey away – responded when a man got trapped under a car in Tomintoul on Sunday evening.
Earlier this year Scotland's first tri-emergency station – housing the police, fire and ambulance services – was opened in the village by Chief Constable Sir Stephen House.
But Ms Mathieson's brother Charles said there were still major issued which needed to be addressed.
He added: "They still haven't got stuff in place, there is not enough want or belief in the managers to fix it.
"They opened a new tri-station, but if you don't have the staff to man it, what's the point?
"Tomintoul is one small part of the problem, other places are short staffed as well.
"You need to find a remedy before sticking a plaster over a gaping wound.
"The morale is so low amongst ambulance crews they are disillusioned, before when the cover was short they would offer to do it, but now they're just not.
"The ambulance service is so stretched, until crews decided they needed a break nobody realised there was a gap in the service.
"It's disappointing as a family when they reassure us that things will change and they are still not addressing the issue – you can only fight for so long."
In May, Health Secretary Alex Neil said he hoped the Mathieson family would accept that the authorities had "gone out of their way" to ensure the situation with Ms Mathieson would not be repeated.
He announced that 150 new technicians – 58 of them stationed at ambulance depots across the north and north-east – would mean 999 calls were answered "timeously".
The staffing increase was also designed to ensure crews get rest breaks during their shift, but can still attend emergency calls.
All 2,685 frontline crew members in Scotland have moved to a 37.5-hour working week, which includes rest times.
One Tomintoul resident said last night: "The ambulance is not there when we need it.
"In a remote community that's what seems to happen, and other places are fully staffed, such as Elgin.
"Sometimes the ambulance is on and there is no paramedic.
"They've got a beautiful place, the tri-station, but they don't staff it the way they should."
A Scottish Ambulance Service spokesman said:
"Despite every effort having been made to provide relief staff on overtime, it was not possible to cover a combination of absence and vacancies over the weekend at Tomintoul.
"Cover was provided by air ambulance, supported by staff in Ballater, Grantown and Aviemore. Local managers are working hard to address the situation as a priority.
"The air ambulance responded to an incident in the area at 5.10pm on Sunday, along with a Ballater crew, and the patient was safely transferred to hospital."
A Scottish Government spokesperson said:
"The Scottish Government is committed to ensuring all communities in Scotland receive high quality and sustainable emergency services.
"We are aware of the challenges some rural healthcare services face in the recruitment and retention of staff and we are working with local service providers to address these issues."