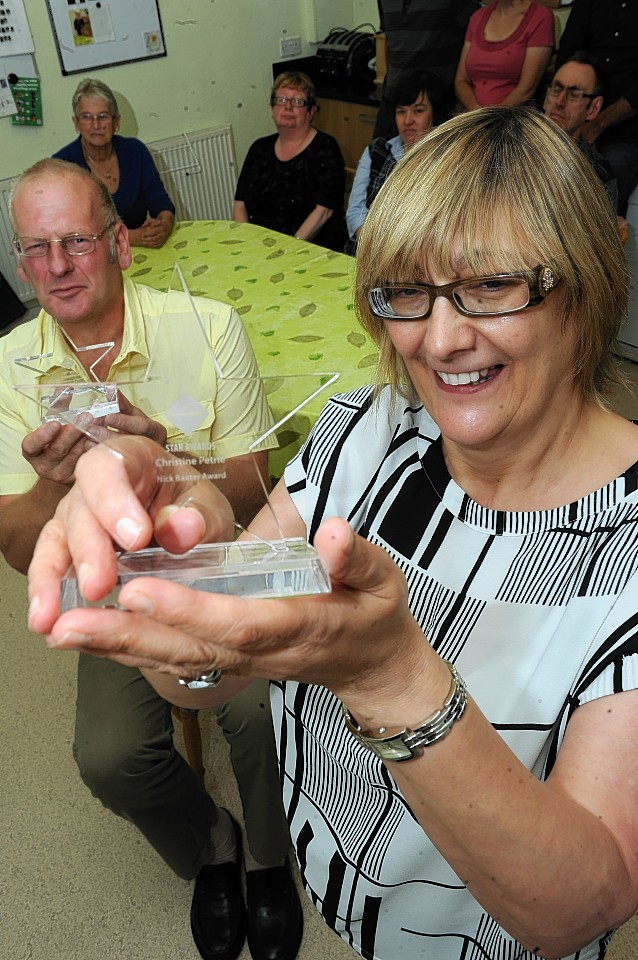 A long serving member of Cornerstone has celebrated her 21st anniversary by receiving a prestigious award.
The Cornerstone Star Awards, which celebrate the work of staff and volunteers, were held recently at the Invercarse Hotel in Dundee.
Collecting the Nick Baxter award which recognises an individual's long service was 56-year-old Christine Petrie from Elgin.
She started working with Cornerstone in March 1993 in the main respite unit in Elgin and over that time has seen a lot of changes.
Ms Petrie, who works at the respite unit at 28 Hay Street, Elgin, said: "There are four tenants and on certain occasions there is only one member of staff.
"We have staff on a rota basis to ensure that the individuals are still getting the support they require."
She added: "We want to make a difference to their lives and go with them to get furnishing for their room.
"We want to make it a homely environment and each tenant has their own room.
"We encourage them to invite friends over for meals or to have a family gathering."
Ms Petrie said that she has seen a lot of changes in her 21 years of service: "The centre went from being open just at weekends to being open seven days a week.
"The last few years we have seen financial cuts and the support has halved so that we don't get individual support.
"It is important that we are creative so that we can think of ways of supporting the individual tenants."
Speaking about her award she said: "It is named after the co founder of Cornerstone, Nick Baxter and it means an awful lot."
She added: "I had a lovely meal and saw the other nominees picking up their award.
"I'm just one person out of hundreds of employees, everyone works really hard and puts their heart and soul into Cornerstone."
One of the volunteers Ronny Proctor won Supporter of Year which recognises the outstanding efforts of staff and volunteers in their spare time.