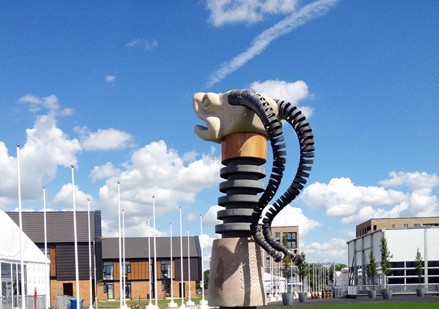 A sculpture of one of Scotland's best-loved figureheads has found a new home south of the border.
The 9ft model of Nessie, which had pride of place outside the athlete's village at this summer's Commonwealth Games, is relocating to Coventry after it fetched £9,000 at auction.
Creator Stuart Murdoch said he was honoured to have been involved in the celebrations for Glasgow 2014, and delighted that his piece had found a good home.
Mr Murdoch from Ballindalloch said: "In this work I wanted to represent the nation's mythology, creativity and ancient history, as well as to highlight the grit and determination shown by all the Commonwealth athletes."
Much of Mr Murdoch's work is derived from the scenery and wildlife around him. He used Caithness stone, Scots elm and Clashach sandstone from Moray to create the five-tonne Nessie sculpture.
The bidder will receive a personally signed certificate of authenticity and an opportunity to meet Mr Murdoch.
Nessie is one of more than 10,000 sporting mementoes which have been put up for auction by Games organisers.
Other items have included rugby balls, badminton nets, boxing gloves and one of the giant Tunnock's teacakes from the opening ceremony, which sold for £1,605.
The money raised is going towards the cost of staging Scotland's biggest-ever sporting and cultural festival.