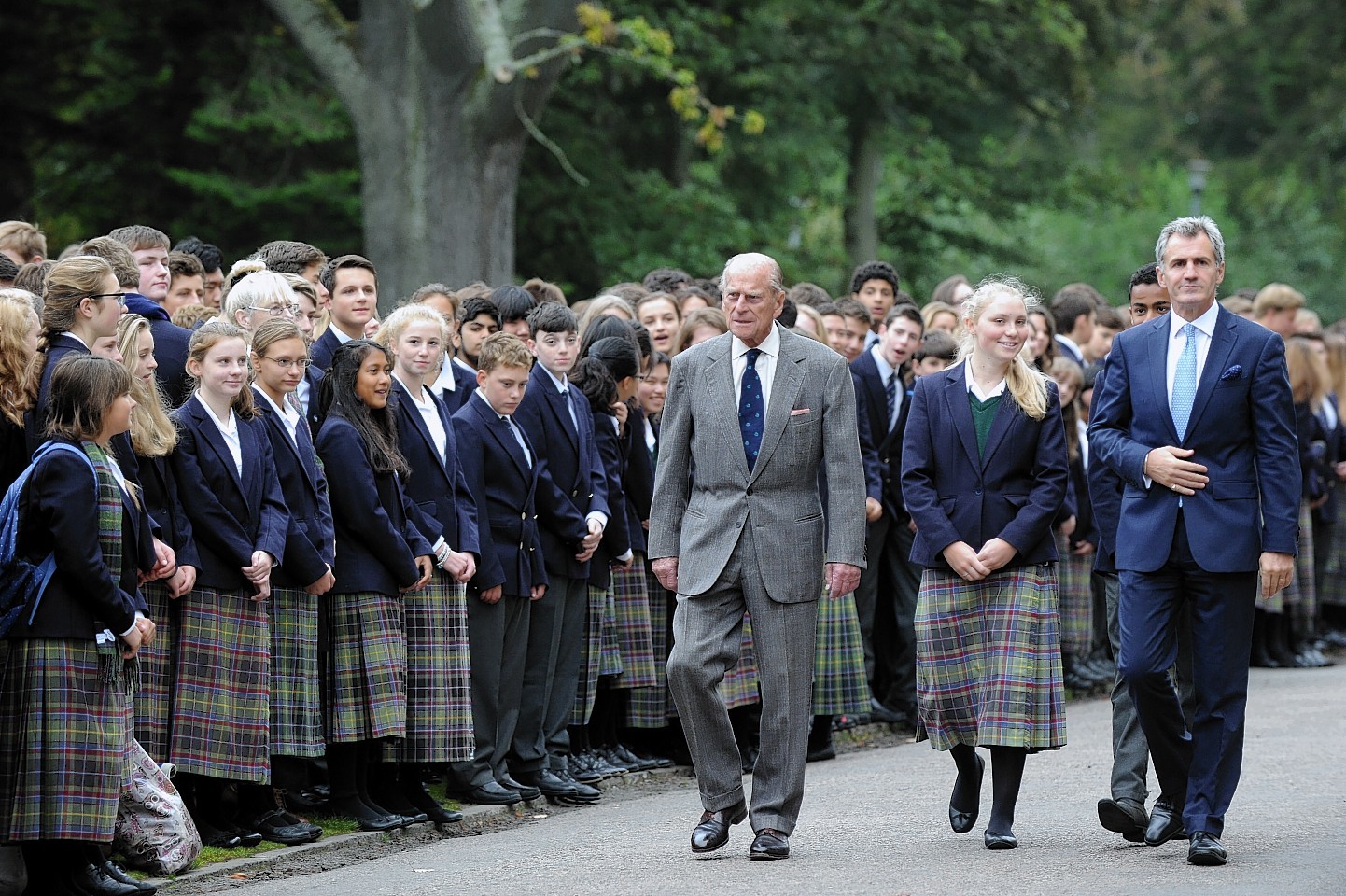 The Duke of Edinburgh returned to his Moray roots yesterday in a landmark celebration at his former school.
Prince Philip became Gordonstoun's tenth pupil in September, 1934, and he was all smiles yesterday as he greeted current students and staff to mark the school's 80th birthday.
The duke arrived waving from the front seat of his black Land Rover to a wall of applauding students who lined the road.
He was then introduced to school officials by Moray Lord Lieutenant Grenville Johnston, before chatting to several pupils.
Ukrainian student Glib Dreger, 16, said the duke's jokes calmed his nerves and it was inspiring to talk to an Old Gordonstounian who went on to achieve so much.
Year 13 student, Isobel Armstrong, added: "He was super nice and approachable.
"He asked where I was from and what house I'm in. I didn't think he'd know the Isle of Arran.
"It was interesting to see what he was like because you see him on TV all the time but to say he was an ex-Gordonstounian is amazing."
Katie Wilson, 9, said that she was really excited when Prince Philip asked her where she was born, but seven-year-old, Sophia Nardone said: "It was scary when he asked how long I had been here."
After the arrival ceremony, the duke attended a presentation about how the school has changed, then enjoyed lunch before joining the school congregation in an outdoor service.
Year 12 pupil, Annabel Devey, who presented to the duke as part of the school's fire service, said: "It's been really exciting and I think quite a lot has changed since he was here, and we can show him what has changed and what's improved."
German educator Karl Hahn came to Britain and founded Gordonstoun in 1934 after being forced to leave Germany for speaking out against Hitler in public.
Prince Philip studied at Mr Hahn's school in Salem and continued his education in Moray after Mr Hahn set up the school at Duffus.
Gordonstoun's close proximity to the Moray Firth and the hills to the south inspired Prince Philip's love of exploration, and The Duke of Edinburgh challenge — formally called The Moray Badge — was born as a result.