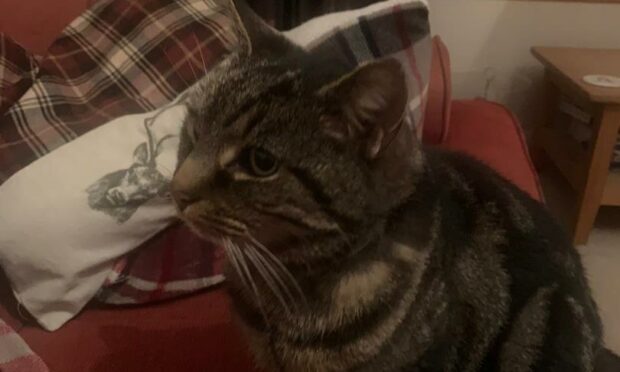 The "surprised" owner of a curious missing cat who turned up 80 miles from home is desperate to find out what he has been up during his 11 year absence.
Wandering cat Fergus simply disappeared 11 years ago, and owner Fiona Mutter from Forres feared the worst.
So she was amazed when her feline friend, who was four at the time he went missing, was returned more than 11 years later, and in a great state of health.
And with Fergus now settling back into family life, including making friends with the family's second cat Ozzy, bank worker Miss Mutter is keen to piece together more than a decade of the feline's life.
Speaking to the Press and Journal, she said: "The big mystery now is where has Fergus been? He is a petted cat, when you stop stroking him he nudges you to keep going.
"And he jumps up on the bed. So he has been somewhere that he has been loved and looked after. His coat is good, and he is eating wet food. So someone has been looking after him.
"It would be amazing to find out where he has been and what he has been doing. We would love to find out. It would be great to fill in all the gaps."
There has been a period of acclimatisation for Fergus, which meant learning to share his old home with Ozzy, the family's other cat.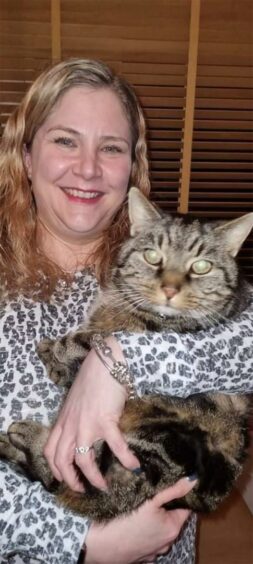 But since they were introduced, they've got on like a house on fire.
"When we got home he met our other cat Ozzy and in spite of a bit of early curiosity they are now getting on well. They are already sleeping together, on our bed." Miss Mutter explained.
"I don't think for a minute that Fergus remembered us. He was very tired when we brought him home, of course he had a big journey."
Fergus, who is now 14, was rescued as a kitten from Cats Protection by Miss Mutter.
The puuuuurfect result
Friendly feline Fergus was found by a volunteer at Cats Protection's Aberdeen branch who went out searching for a stray after hearing of a cat who had been hanging around Hazlehead Recycling Centre for several months.
The volunteer eventually managed to track down the tabby and scanned it for a microchip, which revealed just how far he was from home.
---
---
Using the phone number connected to the chip, Miss Mutter soon received a phone call with the news that her missing cat Fergus had been found, some 80 miles away from her address in Forres.
Mis Mutter said: "It has been a whirlwind. We are shocked to be honest.
"I got a message on Saturday lunchtime, and I met the volunteer half way in Huntly.
"We didn't have everything that we needed, like a litter tray and wet food. I had plans for Saturday afternoon but they came to an abrupt halt when I got the call.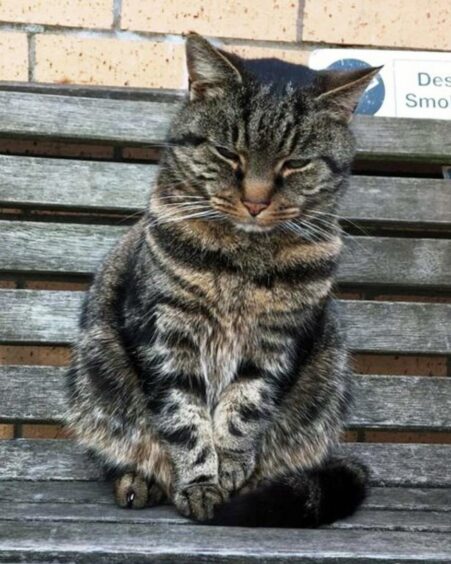 "My son Kyle came with me to pick him up. It doesn't seem real.
"We got him as a kitten from Cats Protection so it was strange that it was Cats Protection that found him again. We had him until he was about four-years-old.
"We are extremely grateful to the Cats Protection volunteer who went above and beyond to get Fergus home."
But what does the future hold for a cat with a sense of adventure?
"I don't feel confident about him going out," said Miss Mutter. "I think I would be concerned about him going missing again. But he hopefully won't want to wander as much as he did in his youth. He is an old mannie now."
Campaign for all cats to be microchipped
Cats Protection is campaigning for compulsory microchipping of pet cats across the UK, as is already the case for dogs.
In England, the measure is expected to be introduced during 2022, and the charity says it is concerned cats in Scotland are being left behind.
Alice Palombo, government relations officer for Cats Protection, said: "Every day, we see how important microchipping is for cats and for the people who care for them – whether it's reuniting a lost cat with their owner, identifying an injured cat, or helping to ensure an owner can be informed in the sad event that their cat has been hit and killed by a car."
Anne Sullivan, Cats Protection co-ordinator said: "The cat was found by our lost and found volunteer.
"He is like Inspector Clouseau, and he goes above and beyond with every cat we find. He wants to reunite them with their owners if they have a micro chip or not. Aberdeen doesn't know how lucky it is to have such a superb and dedicated volunteer."