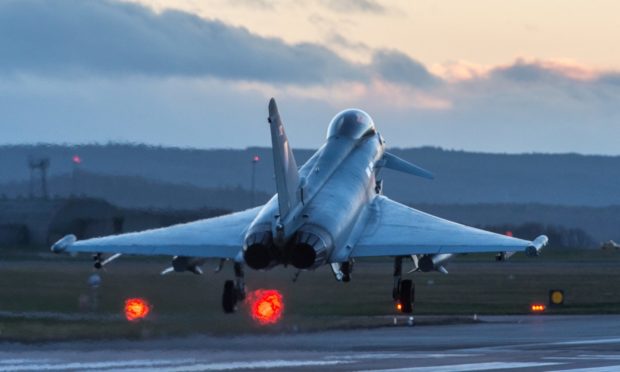 Typhoon jets from RAF Lossiemouth have been scrambled in response to escort four Russian bombers approaching the UK.
The fighters were launched from the north-east base this morning to track potential intruders off the north coast of Scotland.
The RAF confirmed the operation remained ongoing at about 12.30pm and is understood to have concluded shortly after 4pm.
It is understood the fighters intercepted the Russian bombers and escorted them out of the UK's area of interest. At no time did the intruders enter UK airspace.
Typhoon jets stand ready 24/7 at RAF Lossiemouth through the year to be scrambled in response to enemy or unidentified aircraft.
During 2021, the UK's frontline of defence was launched 10 times on QRA (quick reaction alert) operations – four times in response to Russian aircraft.
Typhoons scrambled amidst growing tensions
The scramble comes amidst heightened tensions between Nato and Russia as troops gather on both sides of the Ukraine border.
Prime Minister Boris Johnson visited Eastern Europe yesterday, warning Russian president Vladimir Putin "crippling sanctions" would be imposed if his troops were first to cross the border.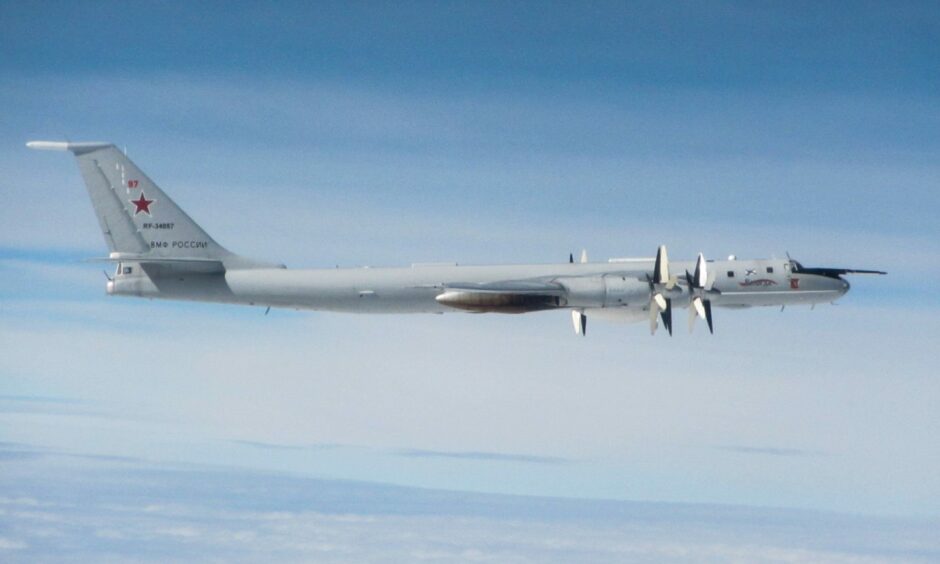 The RAF has confirmed the RAF Lossiemouth Typhoon identified the intruders as two Tu-95 Bear H and two Tu-142 Bear F bombers.
A spokesman said: "Quick Reaction Alert Typhoon fighters based at RAF Lossiemouth, supported by a Voyager from RAF Brize Norton, were scrambled today against unidentified aircraft approaching the UK area of interest.
"Subsequently we intercepted and escorted four Russian Bear aircraft."
Moray MP Douglas Ross said: "This incident shows how important it is to the security and protection of the UK to have these facilities in Moray ready to act at a moment's notice.
"With the current situation on the border at Ukraine, our world-class RAF were typically rapid in their response to keep our airspace and people safe from any potential threat."
What is QRA at RAF Lossiemouth?
The Quick Reaction Alert (QRA) operation is one of the most critical run from RAF Lossiemouth.
It requires Typhoon jets and crews to constantly be ready to respond to potential threats approaching the northern part of the UK.
Personnel at RAF Coningsby in Lincolnshire perform QRA missions in the south.
There were 10 scrambles from RAF Lossiemouth in 2021.
The operation regularly involves jets being called to respond to Russian aircraft approaching the UK.
However, the RAF responds to any unknown aircraft in the country's area of interest.
In 2021, four of the 10 scrambles were in response to Russian aircraft.
QRA operations are launched to intercept unidentified aircraft not communicating with air traffic control, that has not filed a flight plan or is transmitting a recognisable radar code.
Aircraft moving through UK airspace while not complying with regulations can pose a danger to other planes in the area.