When even a simple walk outside can result in fainting, the world can seem a dangerous place. But for one Moray woman who can collapse up to three times a day, it is now just a horrible fact of life
On the surface, Jane Bateson seems determined and healthy, but all of that can change in a split second.
For the 68-year-old from Milton Brodie, near Kinloss, everyday life is fraught with potential dangers. Even a simple stroll can result in a concussion for the woman who faints up to three times a day.
Since she started experiencing inexplicable dizzy spells and fainting six years ago, the former horse-rider's world has diminished dramatically.
"It really has taken my life away," said Jane of her precarious condition. "I can't drive, I can't ride. I used to do catering but I can't do that any more. I can't stand for long, I have to do my shopping in a wheelchair, and yet I look fit. And that's the trouble."
It has taken a long time for Jane to get a proper diagnosis, as specialists of her condition – dysautonomia – are limited in number in the UK, and practically non-existent in Scotland. And though she now knows the name of what is causing her to black out with alarming regularity, there has been little improvement in her health.
"At the moment, I'm probably fainting three times a week," she said. "But that's purely because I'm not really going out any more. For example, I went out recently to get Christmas tree lights, but I didn't take the wheelchair because it was just a short trip. And I really hate using the wheelchair.
"So I got my lights, had a quick look around and suddenly everything started to buzz. I thought 'oh no, I'm going to faint'. And sure enough, the next thing I knew, I cracked on to the concrete and bruised my legs. It's just so frustrating."
In full medical terminology, Jane suffers from autonomic neurally mediated syncope, and also a degree of postural tachycardia syndrome (POTS).
"What it means is that I can't tolerate heat, standing and I get tired very quickly," she explained.
"I have trouble with my eyesight too. And in terms of the POTS, that means if I stand up my heart goes up 30% and that makes you very dizzy and weak."
As Jane has experienced hundreds of times since the onset of her dysautonomia, many of her dizzy spells result in her collapsing painfully. From bruises, to cuts, grazes and concussions, her condition has bred within her a feeling of constant trepidation.
Even while having her photographs taken for this article at her home in Milton Brodie, a short stroll outside left Jane crumpling to the ground, seemingly without warning. After being immediately brought inside to her living room, she needed some time to ride out the severe exhaustion which inevitably follows each episode.
"I feel it coming on," she said. "I get what they call a 'coat hanger pain' along the back of my neck and across my shoulders. It's described as a 'grey-out', where your eyesight goes a bit, as does my hearing. And then I get a feeling of weakness and vertigo. Then, if I can lay down, I'm fine, but it can happen when sitting or standing.
"I'm usually aware of it happening. I find walking and talking simultaneously quite difficult. I can be shopping, or at the library, for example, and I can't hover, so sometimes I just slump – my legs just give way. It's the most unglamorous, horrible thing."
Jane finds that she has become increasingly isolated by her condition, both physically and socially. Even going to a restaurant is an ordeal, as she needs to keep her legs elevated to avoid taking a turn for the worse. She is determined to keep as fit as she can and goes swimming twice a week when she is keeping in good health. But even this is only possible because of the home help the pensioner can just afford courtesy of a low-level disability allowance.
"My closest friends and family are great, and my home help is an absolute star. But with others, it's like when somebody dies. Some people find it difficult to deal with. They think, 'Jane can't do this or that any more, and so we shouldn't bother her'. So I often feel isolated, frustrated and lonely. Because I was always so gregarious before."
Jane's journey to diagnosis has been a complicated one – due, by and large, to the specialist advice and support which is needed to identify it. As an angina sufferer, the initial line of investigation was by her local cardiologist, but a strong link between her existing condition and the fainting wasn't found.
A battery of tests in Aberdeen followed, where other possible underlying conditions were considered, including epilepsy and empty nest syndrome – the latter being a psychological condition that can affect parents around the time that their children leave home. The conclusion at the time was that it could be a psychological condition, though Jane strongly disagreed with the diagnosis.
However, a test that did come back with strong results, carried out very early on in the process by her cardiologist, was a tilt table test – an experiment which tests poor autonomic function. In the procedure, patients are strapped to a special table and then tilted to induce fainting. From this, medical experts can often find out the degree to which the patient suffers from poor blood pressure, and therefore whether they may have dysautonomia.
In Jane's case, the test showed signs of the condition. However, the results were disregarded in Aberdeen as tilt table test results were considered difficult to draw conclusions from – hence the reasons the other causes were looked into instead.
"I then gave up, came home and started blacking out again. And gradually it got worse. But then I discovered a consultant down in England called Professor Mathias, who worked at an autonomic nerve testing clinic down there. I then applied for NHS funding but I didn't get it as my condition wasn't life-threatening," Jane said.
She consequently gathered together her savings and, along with a significant donation from her daughter, became a short-term private patient at the London-based clinic. After three days of tests at the clinic, all of Jane's tests came back positive for dysautonomia.
"I can't tell you how wonderful it was to be diagnosed down there. Up here I felt like I was being a time-waster," said Jane. "Everything was explained, such as why my eyesight and legs don't work well because of my blood pressure. Plus I had help with what to eat, what not to eat, how to keep fluids up and so on. I left that clinic broke financially, but I was on a high."
With her savings spent, Jane has now returned to NHS care, which has included two weeks at the new Quarriers epilepsy centre in Govan. "I was there for two weeks for psychological assessment, and they were lovely," she said. "They had no experience in dysautonomia, but they helped me deal with it. Just not the physical side of it. I mean, down in London, there were practice nurses to help; there was research going on for things like diet, and there was just understanding and support which isn't available here."
And so, while grateful for the experience at Quarriers, it is an autonomic testing clinic which Jane feels she needs if she is able to get a proper handle on her condition which, to this day, is still not improving greatly. At this stage, she is becoming resigned to the fact that she may never regain a fully independent life, and so her focus has turned to others with the condition.
She hopes that she may be able to help raise awareness of the condition, which may in turn lead to the establishing of a Scotland autonomic testing clinic.
"It may well be that there's no cure for this. But there are treatments, and down at the National Neurological Hospital they are making progress," she said.
"I would like it to be accepted that we need dysautonomia testing for Scottish people. I would like to have someone that understands the condition, a trained practice nurse, for example, and they could look into what helps me. And if they took notes, that could help another patient. It's not rocket science. What I'm really trying to do is raise awareness of it, because it's not just me."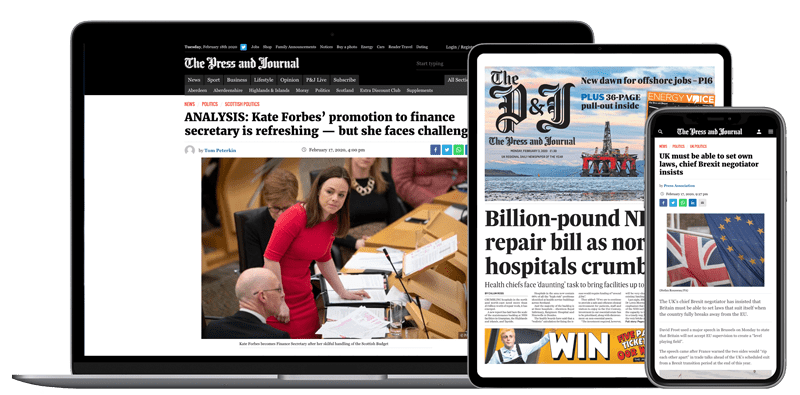 Help support quality local journalism … become a digital subscriber to The Press and Journal
For as little as £5.99 a month you can access all of our content, including Premium articles.
Subscribe