 A senior councillor who was ousted from Moray's council's troubled administration has called for wholesale changes in the way the local authority is structured.
Douglas Ross has proposed a new style of governance the council.
The Scottish Conservative member tabled a motion to have no administration or opposition at all in a system where all councillors would be eligible to lead committees rather than just the 12 who now form a minority administration.
The idea is being considered by group leaders, and the Fochabers-Lhanbryde councillor was given until the next full council meeting on March 4 to drum-up support from fellow members.
Councillor Ross said: "I tried to be as open and frank as possible in my introduction, accepting that my style on the council may put some people off this suggestion because I put it forward.
"I offered to speak with every group and individual councillor or simply place my ideas on the table and walk away.
"This issue is too important to be rejected simply because of who suggested it.
"Unfortunately, it was clear there is some significant opposition to the proposals and it seems some councillors do not want this coming back to the full council meeting.
"You have to assume that is because certain councillors have already decided not to support it. I hope I'm wrong with that.
"It's clear some councillors have entrenched views about how the council works – I'm simply asking that we all have a discussion about the proposal put forward or any other model of how we do things in Moray.
"I don't think the current arrangements are working, I know we have talented councillors out with the administration who are not being utilised and I'm confident there is a better way to do things."
Moray Council's convener Stewart Cree said he did not expect Mr Ross's motion to garner much support.
Councillor Cree said: "What Councillor Ross suggested is something that you do outwith the council chamber.
"When new administrations are formed, that's a practical matter. It's not a matter for the chamber.
"We have agreed he can speak to who he wants about it. He will have until the next full council meeting on March 4 to speak to members if he wants to.
"However, I don't believe, personally, there is any real appetite in support of him there.
"To have a coalition, there has to be compromise, co-operation and teamwork. I haven't seen much evidence to form a coalition council in the past."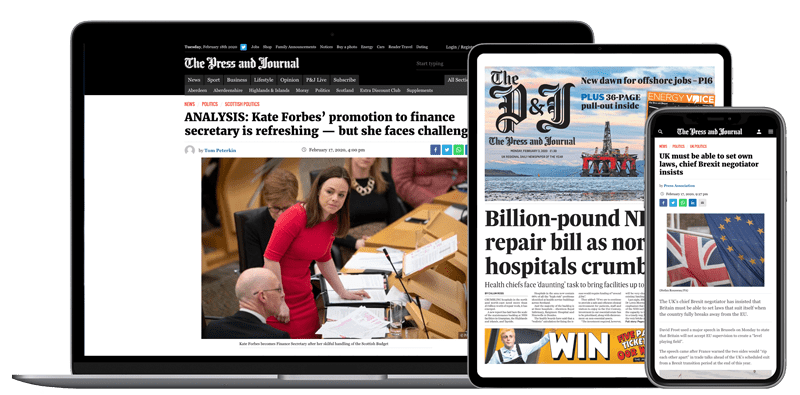 Help support quality local journalism … become a digital subscriber to The Press and Journal
For as little as £5.99 a month you can access all of our content, including Premium articles.
Subscribe