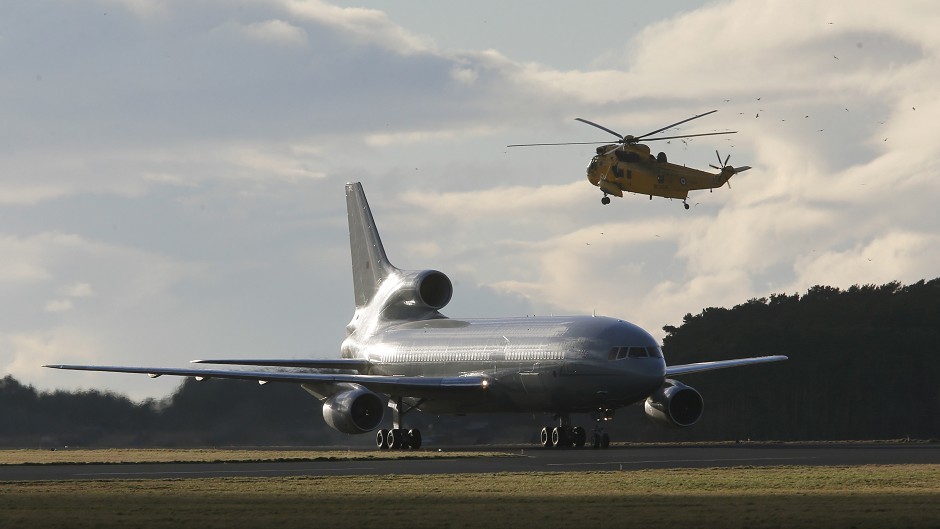 A United States spy plane has been spotted at RAF Lossiemouth over the past week, piquing the curiosity of locals and prompting anger over Scotland's lack of maritime patrol aircraft.
The Ministry of Defence revealed yesterday that at least one US Navy P-3C Orion sub hunter is currently operating out of the base – but refused to discuss its purpose.
A spokesman said: "We can confirm that the UK recently requested assistance from allied forces for basing of maritime patrol aircraft at RAF Lossiemouth for a limited period.
"The aircraft has been conducting maritime patrol activity with the Royal Navy, we do not discuss the detail of maritime operations."
Last December it was reported that the MoD had called in Nato spy planes to help in the hunt for a foreign submarine off the west coast Scotland.
At the height of the operation, five aircraft from four different nations were understood to be involved in the search for the mystery vessel, along with Royal Navy war ships.
It was never revealed whether any foreign submarine had entered UK territorial waters.
Such patrol duties would previously have been performed by the Nimrod fleet, which was retired in 2010.
Moray MP Angus Robertson said the presence of the US aircraft showed there was a gap in the UK's air capabilities since the loss of the spy planes, which were formerly based at RAF Kinloss.
"Assistance from the US and other allies is welcome in filling the gap created by the MOD scrapping the entire Nimrod fleet," he said.
"However, it is unsustainable not having domestic MPA capability. The UK government have their priorities all wrong, as a maritime nation Scotland needs maritime patrol aircraft.
"All neighbouring nations with armed forces have them, including the Irish, Danes and Norwegians. It is embarrassing and dangerous that we don't."
The Nimrod aircraft, which entered service in 1969, were involved in maritime operations around the world.
During the Cold War, Kinloss squadrons carried out anti-submarine duties, locating and shadowing Russian naval units, and latterly played a key role in protecting the UK's maritime interests and supporting land-based operations in the Persian Gulf.
Following the Nimrod disaster on September 2, 2006, in which 14 servicemen were killed when their aircraft crashed over Kandahar in Afghanistan, a coroner called for the entire fleet to be grounded.
The RAF's 73-year association with Kinloss came to an end three years later when the Army's 39 Engineers Regiment moved in.