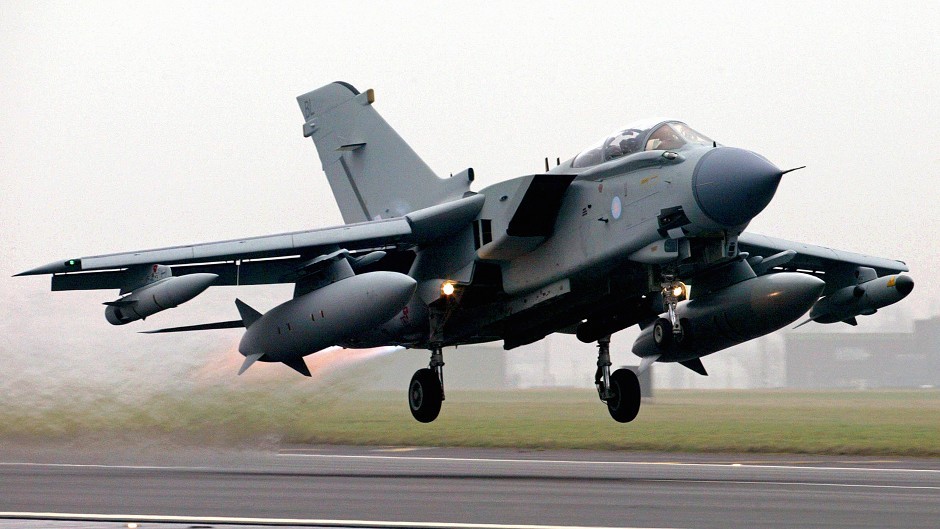 Moray-based Tornado fighter jets are finally being fitted with anti-crash systems – a quarter of a century after they were first recommended.
The Ministry of Defence has confirmed that eight of the RAF's Tornado GR4s now have the collision avoidance technology installed, with more to follow.
The failure to fit the system was found by investigators to be a contributory factor in the mid-air crash involving two Tornado jets over the Moray Firth in 2012, which killed three RAF Lossiemouth aircrew.
Officials first identified the need for the technology in 1990, but the development of the system was repeatedly delayed and even cancelled at one stage.
It had been due to be fitted in all RAF Tornados by the end of last year.
The aircraft – due to be taken out of service in 2019 – are currently leading the UK's military action against the ISIS jihadist group in Iraq.
An MoD spokeswoman confirmed yesterday that the system was now "being progressively rolled out across the Tornado GR4 fleet as aircraft receive scheduled maintenance, ensuring a swift introduction of the system while minimising additional costs".
She added: "The system has been fitted to eight aircraft to date and these will shortly be joined by a ninth aircraft.
"While the introduction of TCAS (traffic collision avoidance system) on Tornado will add an additional layer of safety, there are already a multitude of measures in place to minimise the risk of mid-air collision."
Defence chiefs were under fire last week after a new Military Aviation Authority (MAA) report repeated its criticism of the MoD for failing to install the system in Tornado and Typhoon.
RAF Lossiemouth is home to both aircraft model, and the MAA's director general warned last week that there was an "improbable but catastrophic" risk that a Typhoon could collide with a passenger plane.
The MoD revealed the system was now being installed in response to questions in Westminster from Angus Robertson, Moray MP and SNP defence spokesman.
He said last night: "This parliamentary question is shocking. A collision warning system was recommended to be installed in the 1990s only to be followed by countless delays and even cancellation.
"Now we find out only eight out of a 100 jets have the system installed so far.
"At this rate by the time all the jets have been fitted they will be due to retire a year later."