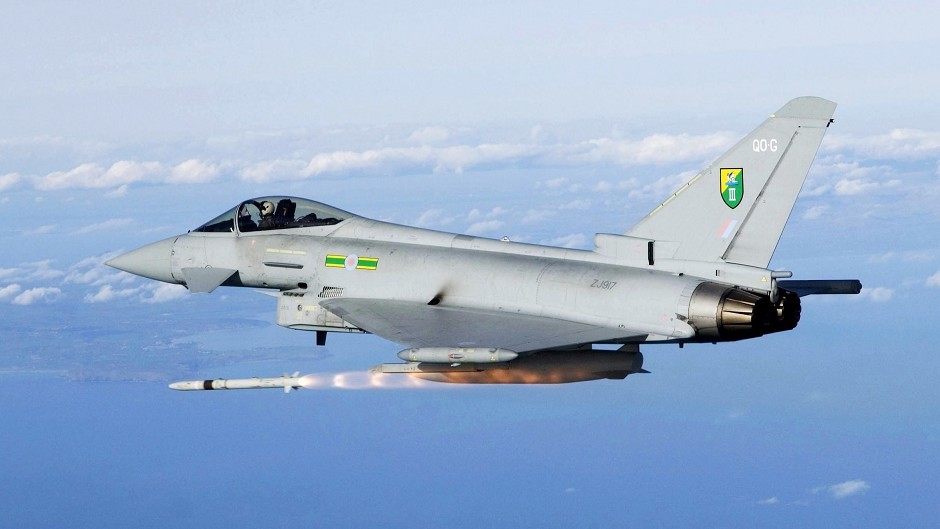 Four RAF Lossiemouth Typhoons will be deployed to the Baltic States as the UK's lead role is confirmed in a Nato "spearhead force".
The 6 Squadron fighter jets will be sent to support the Nato Baltic air policing mission in May.
The Typhoons will operate alongside Norwegian aircraft until August, working to secure Nato's airspace over Latvia, Estonia and Lithuania – which do not have their own air defence fighters.
The Typhoons will operate at Nato's request from Amari Airbase in Estonia.
Group Captain Graham Pemberton, the Typhoon Force Commander, said: "The Multi-Role Typhoon aircraft from RAF Lossiemouth will provide air policing of Nato's eastern flank – this will be a very similar role to the highly successful Baltic Air Policing mission carried out during 2014."
Four Typhoons were also deployed at the same time last year, when Nato boosted its regular Baltic operations, under Polish leadership, in response to the Ukraine crisis.
Speaking at the Nato Defence Minister's meeting in Brussels, Defence Secretary Michael Fallon said the UK will contribute manpower to two regional headquarters in Poland and Romania and force integration units in Poland, Romania and Bulgaria.
Mr Fallon also announced on Friday that the UK will be the lead nation for Nato's Very High Readiness Joint Task Force (VJTF) in 2017 and then on rotation thereafter.
The VJTF is a high readiness, multinational force which will act as a "spearhead force", forming Nato's first response in the face of aggression, he said.
Mr Fallon added: "Nato's credibility in the face of the security challenges we face depends on everyone playing their part to implement the decisions taken at Wales last year.
"The Readiness Action Plan demonstrates the Alliance's commitment to reinforce our collective defence but strong words must be backed up with firm action. That is why I am delighted to announce that the UK will lead the VJTF in 2017 and contribute to the Baltic Air Policing mission again in order to put the Plan into practice."
During 2015, around 4,000 UK troops will participate in Nato exercises. This includes a substantial contribution to Exercise Dragon in Poland in September – the largest live Nato exercise in Eastern Europe this year – which will involve around 1,000 UK troops and a number of armoured vehicles.