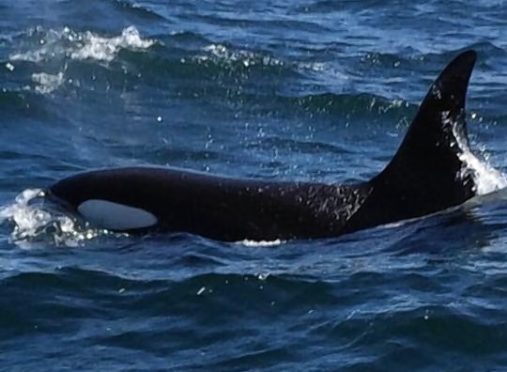 A marine conservation charity has warned people not to feed wild whales and dolphins after a Moray family described an encounter with a pod of orcas.
Stuart Grieve, of Buckie, spotted the four killer whales off Bow Fiddle Rock, at Portknockie at the weekend.
Having boarded a 20ft peasure boat with his friend Liam Hill, girlfriend Rchael Scott and their six-year-old son Cody, the party chased the whales from Findochty towards Lossiemouth.
Mr Grieve said they cruised right into the heart of a whale feeding frenzy and were never more than 15 ft from the whales.
He also described throwing chunks of seal meat back into the water, which one of the whales subsequently ate.
Last night, Whale and Dolphin Conservation (WDC) spokesman Danny Groves warned against feeding wild orcas, saying it could alter their future feeding patterns and erode their wariness of people.
He added: "While we understand how exciting the experience of seeing orcas off the coast of Moray Firth would be, it is unwise for people to try and attempt to feed wild whales and dolphins.
"In the US recently a boat owner was fined $12,500 and given a three year probationary sentence for illegally attempting to feed wild orcas with gray whale blubber.
"Whilst not illegal in Scotland, feeding wild orcas can alter their future feeding patterns and erodes their wariness of people.
"Anyone who is out on the water should adhere to the Scottish Marine Wildlife Watching Code, which is designed to help the public enjoy watching marine wildlife without disturbance, and on the right side of the law."
He added: "Whilst we encourage people to get out and see these magnificent creatures in the wild, we urge that people do so using responsible whale and dolphin operators.
"The best trips and operators have respect for the animals, the places in which they live, but the worst trips can put whales and dolphins at risk."
Orca sightings off the east coast of Scotland are a rarity but, last week, a pod of up to 20 killer whales was spotted swimming close to the shore at Fraserburgh on their way south.
The mammals are mainly seen on the west coast around the Hebrides, although they can also be spotted in the summer months feeding around Shetland, Orkney and Caithness.
The Scottish Marine Wildlife Watching Code can be viewed at 
http://www.marinecode.org/documents/Scottish-Marine-Code-web.pdf