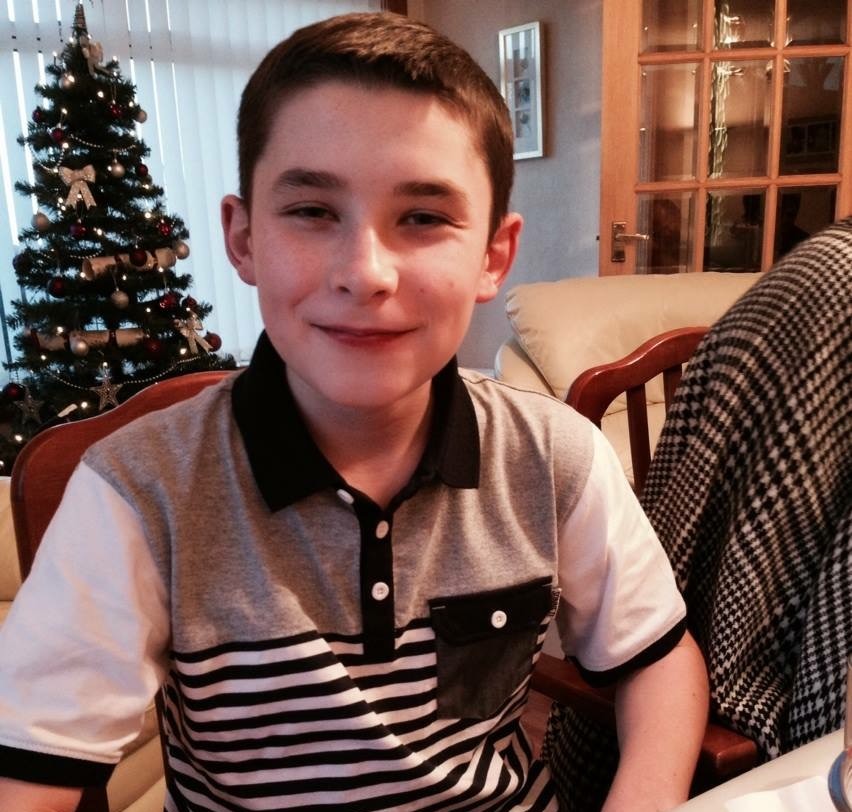 A Moray couple made the heartbreaking decision not to put their 13-year-old son on a life support machine so he could die in peace.
Ryan Wood will be laid to rest today after losing his battle against a mystery brain disorder.
Last night the Cullen schoolboy's parents, Kevin and Theresa, said their son had fought to the end after they opted not to prolong his suffering.
The couple told doctors they did not want him kept alive artificially after months of tests, surgery and treatments failed to result in a diagnosis for his condition.
Mrs Wood said: "We just decided to let him go peacefully on Friday. He lasted through to the Sunday morning – even at to very end, he was strong. He wouldn't stop fighting."
Ryan's health began to deteriorate last December when doctors discovered a tumour in his spine.
He was operated on at the Royal Hospital for Sick Children in Edinburgh on Hogmanay and endured six weeks of radiotherapy, which finished at the end of the Easter Holidays.
The youngster had bounced back from a brain tumour six years earlier and his family hoped that his fortunes would soon improve again.
However, just as he was thinking about going back to school in April his condition took a turn for the worse.
Experts were unable to determine what was causing Ryan's illness and his health continued to fail until Friday when his family decided to call a halt to the endless round of tests.
Mr and Mrs Wood said they told specialists not to put him on a life-support machine so he could die pain-free and finally be at peace.
Mrs Wood said: "Nobody should ever have to make that call for their child, but we had to make the decision.
"It was a brain disease, but they just didn't know what it was. We will never know. There will never be a diagnosis.
"We could have put him down to Edinburgh again to put him on the ventilator for more time, but the tests they wanted to do would have been clutching at straws.
"For the last two months, he didn't have a quality of life. He just all interest because he was so active and went to not being able to do the things he loved, that's the hardest part.
"We always thought there was a hope, but in myself, my mother's instinct, I just knew there was something not right."
Ryan, a second year pupil at Buckie High School, loved sport and his springer spaniel, Diesel, and was described as "cheeky", "full of life" and "energetic".
His mum said: "He was very sociable, never in the house. He loved his golf and his football — he supported Aberdeen, Manchester United and played for Deveronvale U14s and Buckie High School.
"He hadn't played since last November because he took ill, but in his last game for the school he was voted man-of-the-match. He was a member of Cullen Golf Club too and won the handicap junior club championship last year.
Mrs Wood added: "Even if you got mad at him, you couldn't stay mad at him any length of time. He just looked at you and that was it. His sister Nicole, who is 18, used to mother him when she was young. We're all really going to miss him. He was taken far too soon."
Ryan's dad, a local fisherman, said he "could not have asked for a finer loon."
He said: "He was just a young lad. He loved his playstation — he was never off it. He was just a typical young loon, he had a lot of pals and was just so likeable.
"He came away for about 10 days with us on his first trip, aged seven. He was a good sailor. He never wanted to come home, but the playstation had to go away with him."
A celebration of Ryan's life will be held in the Auld Kirk, Cullen, this morning at 11am, and thereafter at Cullen and Deskford Cemetery.
The family ask that mourners wear bright colours and donations in lieu of flowers may be given at the church door for Ryan's favourite charities.