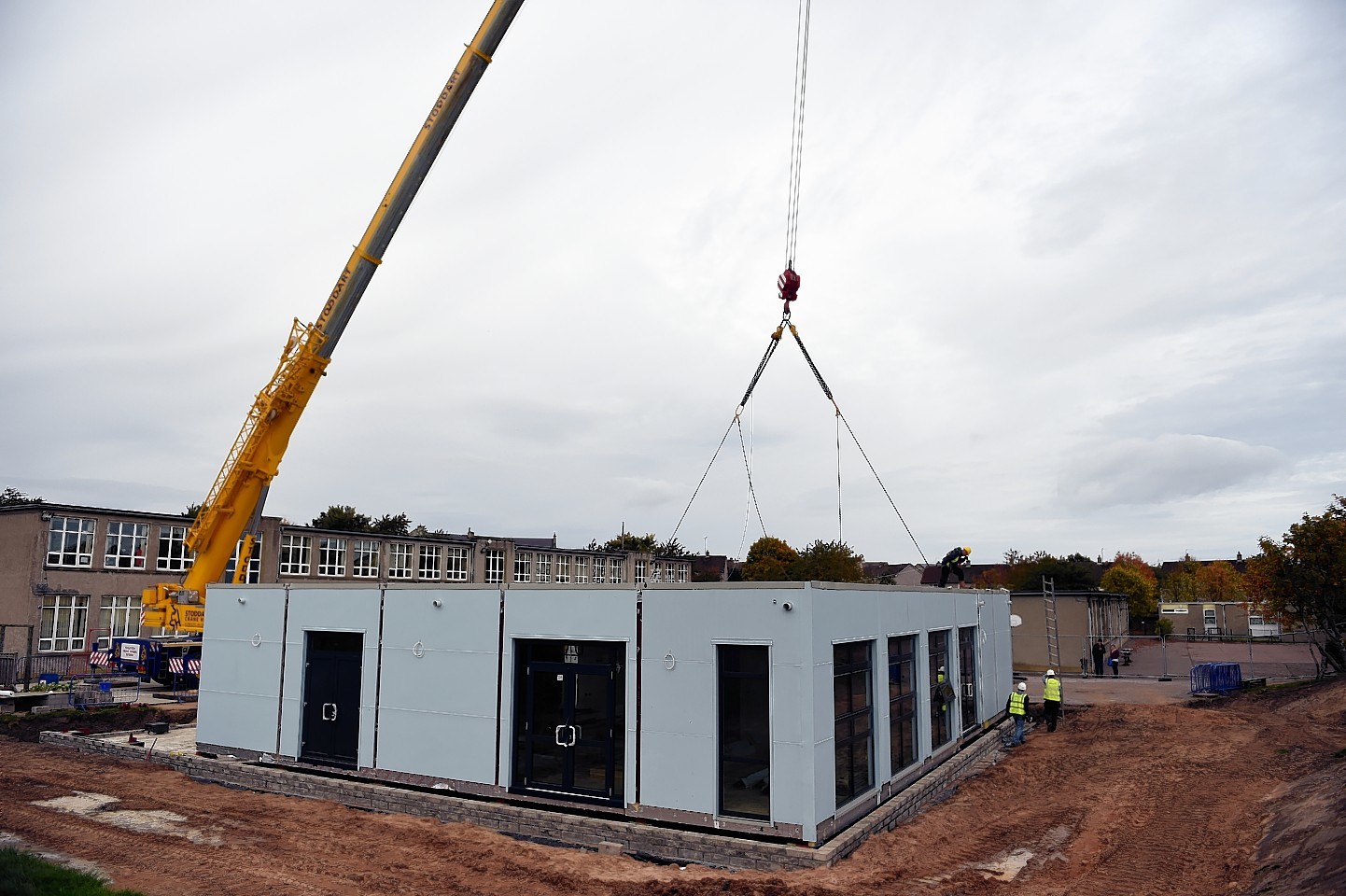 A crane lowered the first of 10 new classrooms into the grounds of an Elgin primary school yesterday as part of a £17million project to curb overcrowding.
The pre-fabricated classroom modules were set down on foundations at Seafield Primary, with a further seven units to be put in place today.
The 17 units will create the skeletons of two extra classrooms and a new nursery in the space of 24 hours.
Preparation has been ongoing for the last few weeks, with the delivery and fitting planned for the October break to minimise disruption.
A fleet of trucks transporting the units from Ireland were parked up on Lossie Green overnight, and at first light they started ferrying the units one by one to a waiting crane and ground crew.
Forres councillor George Alexander, who is deputy chairman of the children and young people's service committee, said he was encouraged by the progress.
He said: "That is a big step made at Seafield. It is a huge inconvenience while work is happening, but the contractors are doing their best to fit in around the teaching day, so I'm looking forward to when it is all finished — as I'm sure the staff are."
The buildings will be in use from January 2016 when refurbishment works on the existing nursery building will commence.
The expanding school in Elgin's Bishopmill area is one of four primaries being targeted in a region-wide effort to address capacity issues. Work is also progressing at Applegrove in Forres, Millbank in Buckie and St Gerardine in Lossiemouth.
With the focus on upgrading and expanding classrooms and nursery buildings, all the schools will benefit from much-needed new roofing, windows and doors, improved insulation, toilets and modernised heating and wiring.
The expected completion date is spring 2017, with each establishment remaining operational throughout construction.
Mr Alexander added: "I'm certainly pleased all four projects are going according to plan."
The refurbishment has been funded by a £10million government grant, with the rest coming from the local authority.
It is a response to council figures published earlier this year which estimated that Seafield Primary would have been 132% over capacity by 2021 had no action been taken.