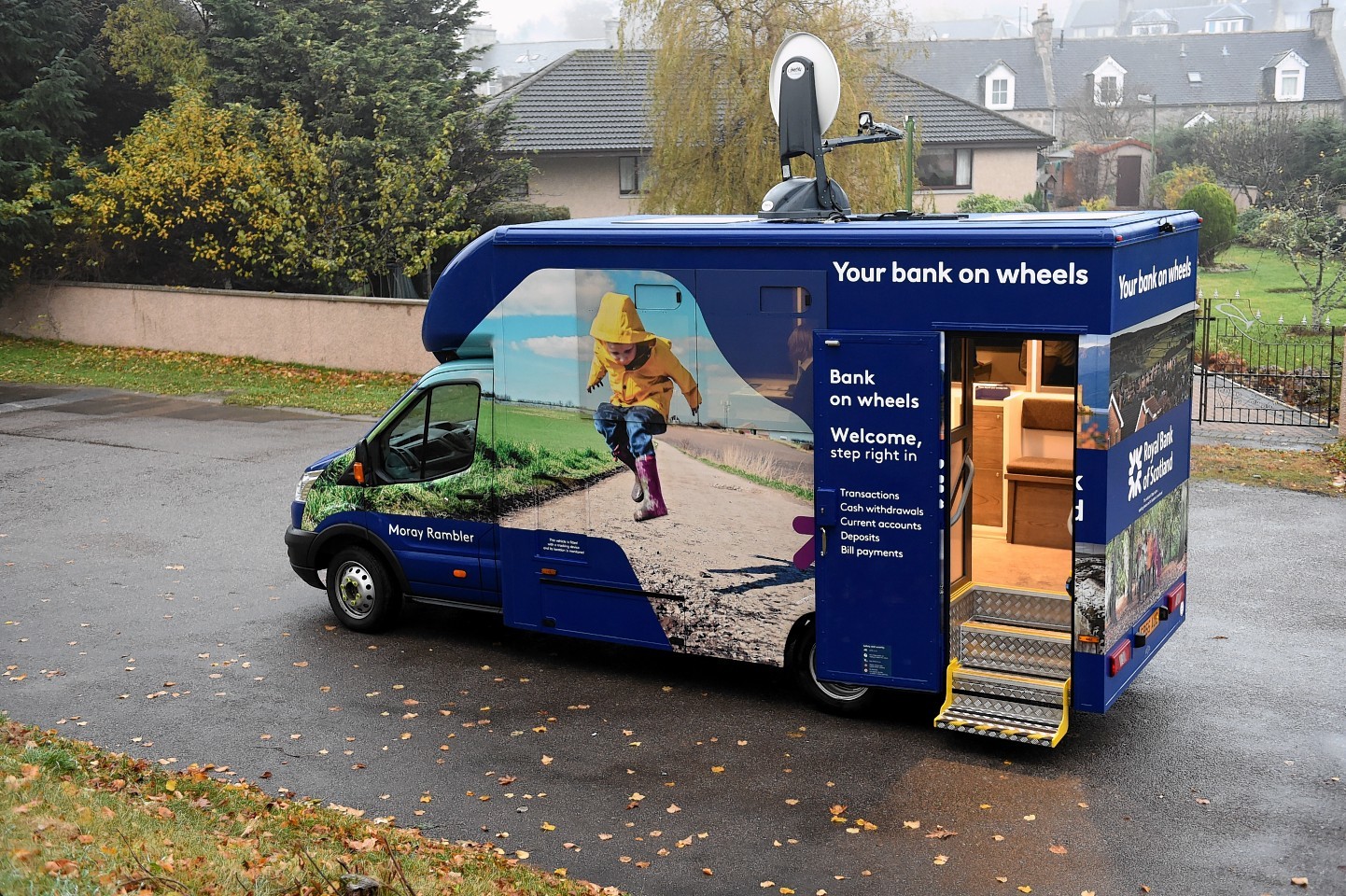 Banking giant RBS has launched a mobile service to replace three "vital" rural branches axed earlier this year.
Dubbed "The Moray Rambler" after a public vote the vehicle will visit 19 locations from Tomintoul to Cullen every week.
Staff have already trialed the mobile branch across the region.
The decision to close offices at Dufftown, Keith and Lossiemouth as part of a nationwide programme provoked an angry backlash from customers and community leaders amid fears the area's economy and tourism industry would be damaged.
Yesterday, the Rambler visited Burghead, Hopeman and Lossiemouth on an official introductory tour for the community to demonstrate the services it can offer.
It is one of four new mobile branches commissioned by RBS as part of a £3.5million investment.
It is equipped with satellite technology so it can offer the majority of services a traditional branch can, including withdrawals, deposits and opening accounts.
Customers can also register for online banking.
But many remain unconvinced that it is an adequate replacement for the closed branches.
Lossiemouth pensioner Gwen Stewart lamented the loss of "bricks and mortar" banking.
She said: "I'm not very happy. I liked going into the bank. I miss it.
"The staff in the branch here were good to me, and it was a good, long walk for me.
"But the Rambler is better than nothing."
Another pensioner said: "I think it is sad that everything is closing down.
"We are too old for this. Everything is online and leaving the villages."
RBS, however, said the response to the move had been generally positive.
The bank's Anne Dewar said: "Our customers have reacted well to The Moray Rambler – they seem pleased that they are able to travel to more places in the community, not just places where branches have closed.
"This allows us to offer a range of services to locations and rural communities like Fochabers and Lhanbryde where we haven't been able to before."