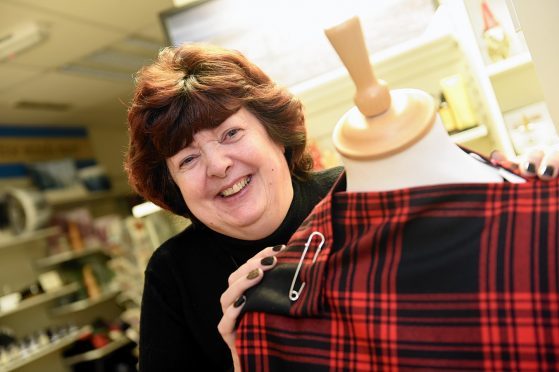 The matriarch of a Moray kilt-making school has been recognised in the Queen's New Year Honours list, after devoting years to keeping traditional tartan manufacture alive.
Linda Gorn is voluntary chairwoman of the Keith Kilt and Textile Centre, a school which attracts students from across the globe to the historic mill town.
Now the 67-year-old has been made an MBE in recognition of her contributions to Keith's economy.
The school opened in 1994 to preserve the skills perfected by generations of mill workers in the region.
Last night Mrs Gorn said that, while she herself was "delighted" with the award, she was more pleased that the kilt-making centre was receiving plaudits.
She said: "It's really good to be recognised, but this is not just about me, there is a very good team behind me.
"It's more important that the business as a whole is praised."
Mrs Gorn has been involved with the Keith Kilt and Textile Centre for 15 years, and has acted as its chairwoman for the past seven of those.
She took on the role following seven years as ward councillor for Keith, a role she says she adopted in order to help promote the best interests of the town.
The Keith Kilt and Textile Centre relocated to a bigger venue in the town's Mid Street last summer, which gives the students more space to work.
The school now offers SQA accredited courses in kilt-making and textiles, and hopes to expand the range and quality of classes soon.
Last month the kilt-making school celebrated its 21st birthday by creating a special "one of a kind" tartan.
Mrs Gorn added: "It has been really good to see the school thrive, and we have people lined up to attend courses for the next two years.
"We are self-funded, and any money we make goes back into improving the school.
"I'm absolutely delighted the award is specifically for services to the local economy, as students coming here all enjoy visiting the surrounding shops and attractions we have here."