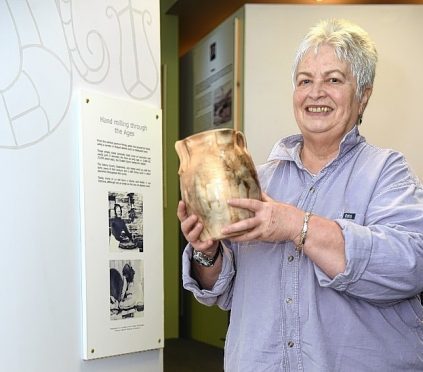 Moray residents are being encouraged to learn about the favourite food of their forefathers and the rustic techniques employed to prepare their meals.
A talk and exhibition at Elgin museum will delve thousands of years into the region's past to explore the region's eating habits and track how they changed over the centuries.
The Food and Cooking Through the Ages talk will take place on Friday at 2.30pm, and organisers believe hearing about the sparse eating regimes of residents in times gone by should help motivate people struggling to maintain their January diet plans.
Displays will track how cooking in the area advanced over the course of centuries, with one display showcasing the primitive utensils bronze age cooks had to master in order to prepare meals and another highlighting the culinary curiosities that were a staple of Victorian kitchens.
Former teacher Mary Shand has organised four separate exhibits to help illustrate distinct historic periods.
A collection of archaeological finds from the Iron Age and Roman periods will also be incorporated into the talk, as well as collections showcasing Bronze Age, medieval and Victorian food preparation methods.
Ms Shand explained the struggles people went through to ensure they remained fed during ancient times.
She said: "Food would have been seasonal and fresh with mushrooms, brambles and fruits abundant "at the right time of the year – but winters would have been lean with few means of preserving fresh food.
"Some cooking utensils and methods would be familiar to us today while others might seem outlandish.
"But food and drink are the basics of life, whichever era you look at.
"What our ancestors ate, how they prepared their food, and the customs surrounding eating and drinking are of huge interest and can teach us about modern day consumption habits."
Ms Shand says she will also answer questions from attendees who wish to learn more after the free talk has concluded.
The event is being staged as part of Elgin's Castle to Cathedral to Cashmere heritage project, which aims to highlight the town's history while an ambitious tourist trail is being created to link together three of its most famous landmarks.