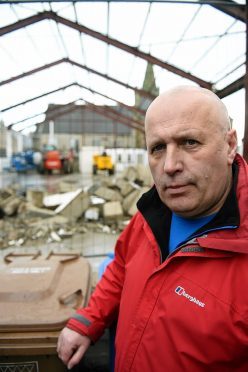 A construction project has been waylaid after a Moray villager complained debris was being scattered into his garden.
Bob Milton Properties is demolishing an old petrol station building in Fochabers as part of a £10million plan to expand the village.
But work at the High Street site has been interrupted by health and safety chiefs.
The scheme, which will create a new Co-op store more than twice the size of the village's existing branch and eight flats, began a month ago.
But Fochabers resident Steve Robertson said he was outraged when he realised his garden had been covered in dust and rubble after workers knocked down a wall overlooking his grounds.
And he immediately lodged a complaint against the works, demanding that they be halted until Mr Milton's firm found a way of dismantling a steel frame beside his home without making a further mess of his yard.
The Health and Safety Executive (HSE) confirmed that a prohibition notice had been placed on work beside the garden at 34
High Street until Mr Milton was able to confirm measures had been taken to prevent more materials falling into the grounds.
Mr Milton has just over two weeks in which to reply to the body and suggest an acceptable method of performing the work.
Mr Robertson said: "My son is asthmatic so having the garden covered in dust was a real worry for us as that will affect his breathing.
"Mr Milton has got to do this properly, and that means putting up a screen to limit any further damage to my property."
A HSE spokesman said: "We made a visit to this site and served a prohibition notice, which relates to concerns about the potential for materials to fall into a neighbouring property."
Mr Milton said he hoped the plans would attract more people to the area, and maintained that he had complied with the standards he had been asked to.
He said: "We are co-operating with the HSE's request, and will provide them with a reasonable response.
"We have a duty of care, and that's something we take seriously.
"This company works strictly within the guidelines of the authorities.
"Most neighbours have co-operated with us, but Mr Robertson didn't want to."