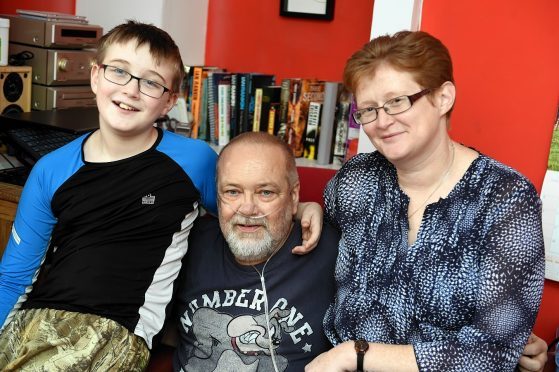 A coastal Moray community is extending its efforts to help a terminally ill dad make the most of his remaining time.
Burghead man Keith Douglas has been astounded by the support he and his family have received from villagers since becoming the beneficiaries of a £4,000 fundraising campaign last year.
Mr Douglas was given just a year to live in May 2014, and his family says he is getting by "on borrowed time".
The 56-year-old suffers from a rare condition which leaves him prone to aggressive chest infections, and had both legs amputated after encountering circulation problems.
To enable Mr Douglas to join wife Karen and 11-year-old son Scott on family trips, a friend began an online collection to pay for adapting a camper van so it can accommodate his wheelchair.
Over the past few months the trio have visited several of their most cherished spots around the north-east in the vehicle.
And to help cover the costs of keeping it on the road, the Burghead Church of Scotland is staging a coffee morning later this month.
Mrs Douglas said the family had been overwhelmed by the generosity of their friends and neighbours.
She said: "We can't believe that more than £4,000 has been raised, and we've been able to make some real improvements to the camper van with that.
"We've managed to install some units, which have been really helpful in letting us store supplies for trips.
"We've been to Duffus Castle, a few parks and Inverness, and this weekend we're going to Aberdeen.
"Previously, that wouldn't have been possible, we're getting out an awful lot more than we used to.
"This was always the idea behind the campaign, so it's great to see it becoming a reality."
Mrs Douglas is now investigating whether a bed suitable for her husband could be added to the van, which would allow the family to journey further afield.
The coffee morning will take place in the Burghead Church Hall on Saturday, February 20, from 10am to noon.
Organisers say the event will allow older residents, who have not been able to contribute to the fundraising effort online, the opportunity to help the family's cause.