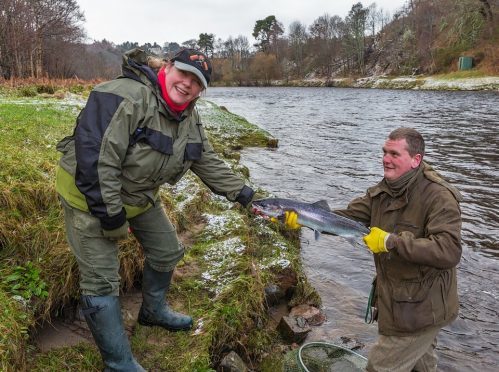 A woman hooked on angling journeyed almost the length of the UK to mark the opening of the salmon season on the River Spey.
Lynn Hannah travelled from London to take part in a traditional launch ceremony along the famed river's banks yesterday morning.
And her sojourn proved well worth the effort when Ms Hannah reeled in one of the first kelts – the name for a young salmon – to be landed on the expanse this year.
Ms Hannah, who runs a branch of the Citizens Advice Bureau in north London, says it had been a dream of hers to attend the traditional occasion.
She added: "I've come here to fish since I was a little girl, but this was my first time on opening day.
"Angling's my favourite hobby, and I visit the Spey area whenever I can, so I have always wanted to be part of the opening.
"I love the peace and quiet, and the scenery, and I just hope that landing a kelt today is a good omen for the rest of the season."
The Spey Fishery Board's annual event took place at Alice Littler Park's Penny Bridge at Aberlour.
Organisers performed a series of rituals designed to bring the anglers, who venture to the river, plenty of good fortune.
The Rev Shuna Dicks, minister for Aberlour, offered a blessing before Jimmy Gray MBE, the superintendent of the River Spey from 1978 until retiring in 2001, declared the season open.
Elgin piper Alan Sinclair played as Mr Gray poured a bottle of Aberlour 12-year-old single malt whisky into the fast flowing water below.
The time-honoured toast is believed to bring luck to those pursuing elusive spring salmon.
Fishermen then charged on to the banks, eager to land this year's Anniversary Quaich – which is presented to whoever nets the first fully-sized salmon.
Roger Knight, director of the Spey Fishery Board, confirmed last night that the prize had been claimed.
He said: "By 3.30pm someone had caught a 7lb salmon by the Delfur beat, but we haven't yet determined whether it was the first fish caught overall.
"Last year, the Quaich was not won on the opening day so we're glad to confirm that it has been this year.
"During 2015 we had a significantly better catch than the year before, and that bodes well for this season."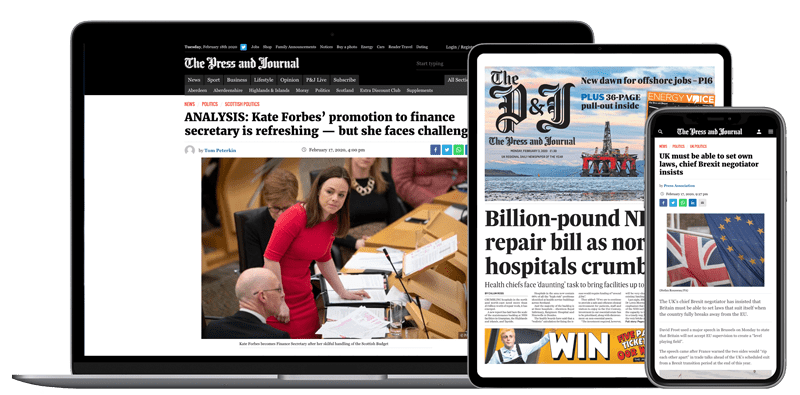 Help support quality local journalism … become a digital subscriber to The Press and Journal
For as little as £5.99 a month you can access all of our content, including Premium articles.
Subscribe