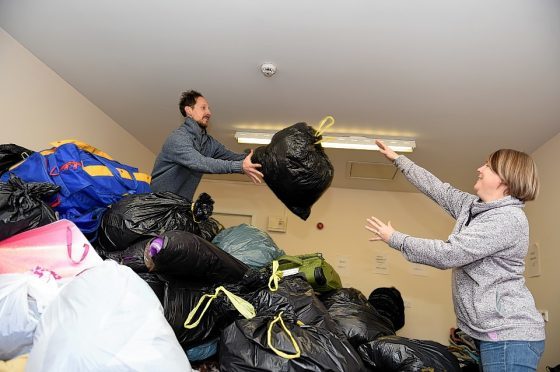 Syrian refugee children will receive a warm welcome to Moray from a group of volunteers who have created some cosy quilts for them.
Families fleeing the war-torn nation are expected to arrive in the region later this month, and local charity groups have worked to ensure their adjustment is as comfortable as possible.
Volunteer quilters from across Moray and the Highlands have been busy fashioning them snug blankets – which they refer to as "a happiness hug".
As well as providing some warmth against inclement temperatures in the north-east of Scotland, the crafters hope the quilts can be used as security blankets to offer youngsters reassurance that they are now safe.
Yesterday, volunteers from the Project Linus quilting charity handed the fruits of their labours over to Moray Supports Refugees, a local group established to oversee the resettlement of incoming families.
Project Linus's Highlands and Moray co-ordinator, Anne Sillar, joined with Elgin quilter Avril Clark to present the bundles to the Moray group.
Ms Sillar said: "Since I retired, I wanted to do voluntary work. I love sewing and I'm a quilter, so when I saw the good these quilts do, I felt it was a wonderful chance to combine the two.
"The quilts provide comfort and cheer to vulnerable children and teenagers who are in need of a hug.
"When I read that some refugee families were to be settled in Moray, I didn't hesitate in offering to help."
The Moray Supports Refugees group has been championed by Aberlour reverend Shuna Dicks, who has established a collection point at the village's church.
In October, Moray Council made three units on Elgin's Chanonry industrial estate available for volunteer crew to use as a handling centre for the thousands of items donated by the public.
The organisation evolved from the MorayCalAid group, created by Fochabers Lhanbryde councillor Sean Morton and Elgin North councillor Kirsty Reid.