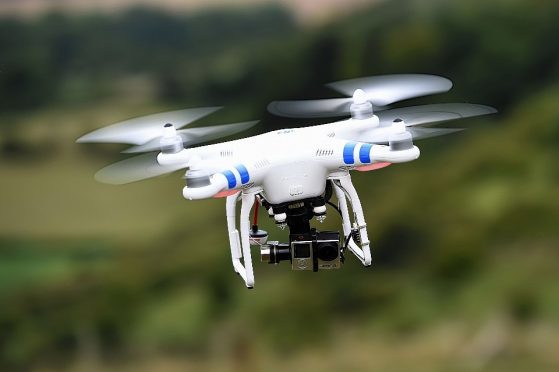 Moray Council is considering using drones to scope out planning sites as part of its drive to save money.
Local authority officers have floated the idea of sending remote-controlled aircraft to film land which has been earmarked for development.
They say that – in some cases – it would be cheaper than bussing councillors there in person.
When developers apply for permission to build, the local authority's planning and regulatory services committee decides whether a site visit is required to make a ruling on their application.
But the idea of sending drones in their place has been included in a package of revisions to the existing system.
Last night, campaigners who have clashed with the local authority over major schemes criticised the proposal.
Gillian Priestly, who led opposition to a controversial road access project in Lossiemouth, said drones could not accurately convey the impact developments would have on their surroundings.
She said: "I think it's a nonsense, a drone can't get the sense of a place the same as a person can.
"Planning applications can affect people's homes and lives – I don't think this should even be considered.
"A drone couldn't convey the noise pollution that developments would bring to quiet areas."
Local authority planning officers have outlined cases where the devices could save the council money at a time when it is having to slash its spending.
They say sending a drone to film four or five plots would cost £550, including editing, which equates to four hours of members and officers' time as well as the price of bus hire.
A trial film has been commissioned for councillors to view when they meet today at the local authority's HQ in Elgin.
The footage details a 14-acre plot which Elgin Golf Club wants to adapt for use at its Glassgreen Driving Range site.
Members will also be presented with a report explaining that site visits often include as many as 10 committee members and can last for up to four hours.
Last year, elected members met to try to devise a new approach to tackling site visits.
In November, the committee took part in a workshop to look at "alternative options" to trekking to the areas they have to evaluate.
However, officers have also said it is "essential" that site visits remain an option for committee members.
Former Moray Council planning chief Donald Lunan backed the use of drones in assessing some applications.
Mr Lunan, who now works as an independent planning adviser, said: "Drone filming can be quite dramatic, and they could home-in on certain angles you would never get from a site visit.
"That could be really useful when evaluating large, remote patches of land such as those developers might want to build a windfarm on.
"I do believe councillors should still visit locations where a significant application is involved, or if a plan has caused controversy locally.
"But for more run-of-the-mill items, where using a drone could save money, it could be sensible to use one."
If members agree that drone filming should substitute for site visits, then a further report will be submitted to the council's policy and resources committee on the budget requirements.