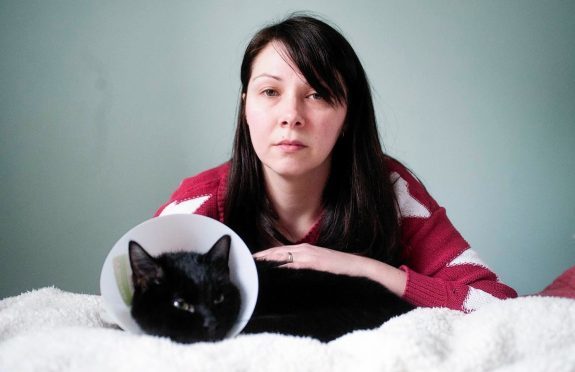 A Moray woman has spoken about her family's heartache after their pet cat sustained "gruesome" gunshot injuries.
The one-year-old animal, McQueen, was wounded so severely that his front left leg had to be amputated.
His worried owners initially believed McQueen had been caught in a trap, similar to one which ensnared a Ross-shire cat earlier this month.
But they were left horrified when a vet told them their pet had been targeted by a gunman.
The injured creature had been missing for five days when he returned to the family home at the foot of Glen Rinnes, just outside Dufftown.
Owner Faye Winter said it was her five-year-old son, Zack, who first noticed the wounds his feline friend had suffered when he limped home on Sunday morning.
Mrs Winter said: "We had never heard McQueen miaow like that before, and Zack said to me: 'Mum, look at his shoulder'.
"There were shattered bones sticking out of it.
"He must have been like that for days, as he was back down to the weight he was at when he was a kitten and you could tell from the smell the leg was decaying."
Mrs Winter rushed McQueen to the vet, and it was only after X-rays were performed that it became apparent the creature had been fired upon.
While nursing McQueen back to health at home yesterday, Mrs Winter outlined her hopes that the perpetrator was identified.
She said: "He was shot on his shoulder, and whoever did it was aiming to kill him.
"I don't think anyone should get away with doing that."
A Strathpeffer family recently voiced their concern after family cat Bill was caught in an "archaic and gruesome" gin trap near their rural home.
Last November, two cats were shot within weeks of each other in Dufftown.
Police officers investigating the latest shooting say there is no evidence to link it with past incidents at this stage.
Forres Inspector Grant McCutcheon said: "The close bond between pets and their owners make incidents like this extremely distressing.
"We take reports of animal cruelty very seriously, and will make every effort to identify the person responsible."
Anyone with information should call police on 101 or Crimestoppers on 0800 555 111 if they wish to remain anonymous.