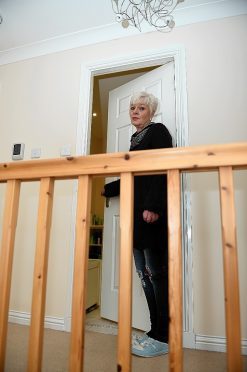 Shameless thieves broke into a Moray home while a young woman was showering and made off with more than £1,000 worth of possessions.
The hastily performed burglary took place during broad daylight in the Silvercrest area of Elgin.
Student Alexandra Cutajar was alone in the family home when the brazen crooks walked through the front door and rifled through dining room drawers in a hunt for valuables.
The 23-year-old's mum, Kate Cutajar, said she felt "sickened" by the invasion into her family's privacy.
Ms Cutajar said: "I can't believe anybody would have the audacity to just walk into someone else's personal space like this.
"For me, the most sickening thing is knowing that my daughter was in the house on her own when this happened.
"She could easily have come downstairs and caught them in the act.
"It's really upsetting, this has destroyed her confidence."
Mrs Cutajar runs the K&M barbers on Elgin's Harrow Inn Close and the raiders made off with a laptop she uses for the business.
They also lifted an expensive Swiss watch and important work documents belonging to her partner Michael Gordon.
However, the family say the most upsetting aspect of the incident was that the thieves took countless hours worth of Miss Cutajar's university work.
Miss Cutajar, a fourth year student at the Robert Gordon University in Aberdeen, was devastated when she realised her satchel had been swiped – as it held years of reports and lecture notes as well as her passport and driving licence.
It was only when Mr Gordon returned from work on Tuesday afternoon that it became apparent the house had been targeted by thieves.
Ms Cutajar urged the thieves to return her daughter and husband's work, adding: "These are people's lives that have been turned upside down."
Last night police urged homeowners in the area to be on their guard against the possibility of further thefts.
A spokeswoman said: "The theft is thought to have occurred sometime between 11am and 1.30pm on Tuesday.
"Home owners are reminded to keep their homes locked, even when inside their property, to ensure they do not become a victim of this type of crime."
Anyone with information should call 101.