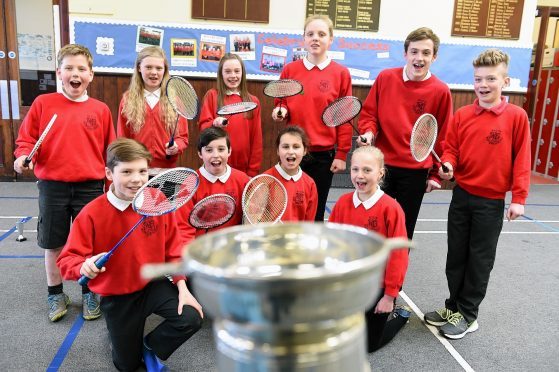 A group of Elgin school pupils are in high spirits after netting top honours at a national sports competition.
Children aged 11 and 12 from West End Primary School can now lay claim to being the best badminton players in Scotland for their age group.
Ten sporty youngsters travelled to Glasgow for the Scottish Schools Badminton Union event at the weekend, and were hailed as conquering heroes on their return to the classroom yesterday.
Head teacher and badminton coach, Gordon Barron, said the youngsters were "ecstatic" after lifting the prize quaich.
Eight local authority areas in Scotland held their own badminton tournaments in the run-up to the national finals.
West End pupils had to topple competition from across Moray to compete on the grand stage.
They met seven other teams from all over Scotland in Wishaw on Saturday for a series of singles, doubles and mixed contests.
During the gruelling round robin competition, the team had to play every other side.
The Elgin youngsters had their confidence rocked early on when they came up against the reigning champions from Bruntsfield in Edinburgh.
They went 2-0 down within minutes of the best-of-five series beginning.
However, the young players summoned their resolve and ultimately triumphed 3-2 over their capital city opponents.
That sparked a winning streak which only came undone in the final game of the day, when the West End team was beaten 3-2 by pupils from Glebe Primary School in Glasgow.
Mr Barron said the children faced a tense wait while points were tallied across the day's games to decide the overall winner.
He said: "There were singles, doubles and mixed matches so at different points we had to rely on different pupils to do well.
"At the end, there were four teams in contention, but nobody had any idea which one of us might have won.
"When it was announced that West End pupils were champions we were ecstatic, so it was a long and noisy bus journey home."
Mr Barron said the win was especially poignant as it came in the school's 140th anniversary year.
He added: "We won the competition once before in 2012, but in a way this is more meaningful as it comes during such a special year for the school."