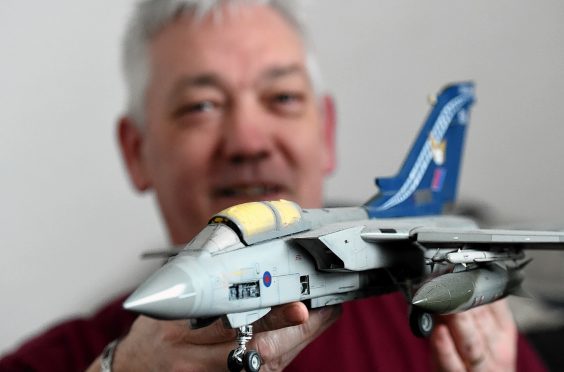 A model aircraft enthusiast has been enlisted by RAF Lossiemouth to help raise charity funds.
Tom Sunley, from Burghead, created a replica of one of the airbase's most prized jets and when the XV (Reserve) Fighter Squadron saw his miniature version of the Tornado, which had been decorated to commemorate the group's centenary last year, they asked if they could have it.
The model is now being auctioned off as part of a mission to raise £15,000 for the RAF Benevolent Fund.
The 53-year-old computer engineer has always been an aviation fan and eagerly seized the chance to help people he regards as heroes.
He said: "One of the pilots found out that I build models, and saw the one that I had made of the 100th anniversary Tornado.
"They are trying to raise £15,000 for the RAFBF this year and asked me if I would donate it towards that.
"After that, people kept adding more to entice buyers, and bids are now up to £600.
"I have built models since I was a kid and I have always been fascinated by the planes at RAF Lossiemouth."
Mr Sunley is staging the auction on his Facebook page, and the winning bidder will receive a host of other rewards.
They will be granted a VIP trip around the airfield, with the chance to sit in a Tornado GR4 and meet its crew, and experience the on-site flight simulator.
An RAF Lossiemouth spokesman added: "XV (Reserve) Squadron entered its centenary year in 2015 and set a target of raising £15,000.
"The squadron had a Tornado GR4 painted in its famous blue and red colours, and Tom Sunley's model is a wonderful recreation of it.
"It was very generous of Mr Sunley to offer to help raise the money, and we hope the owner will be pleased with it."
The specially decorated O26 Tornado jet soared from the airfield for the final time last September.
The Tornado GR4 was painted in the squadron's blue and red colours, and its tail was emblazoned with the XV(R) crest. It made its last flight to RAF Leeming, where it is now being kept in storage.