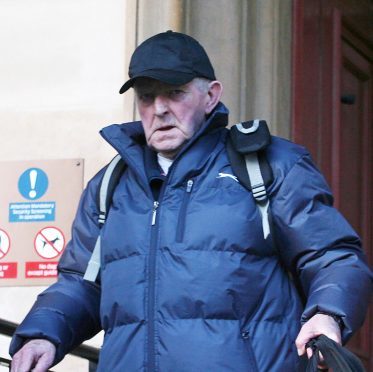 A paedophile pensioner from Lossiemouth who repeatedly sexually abused three girls over an 11-year-period has been jailed for 34 months.
Brazen James Duncan, 75, repeatedly abused his first victim at the kitchen table in front of other people – thanks to a long tablecloth which hid what he was doing.
He targeted the girls at his home in Lossiemouth's Community Way and other addresses across Scotland between 1995 and 2006, when the girls were aged between six and 13.
Duncan had faced trial over six charges at Paisley Sheriff Court this year but pleaded guilty to all charges at a pre-trial hearing last month.
Prosecutor Scot Dignan told the court that Duncan also abused the girls, at properties in the town of Johnstone and village of Kilbarchan, in Renfrewshire.
The procurator fiscal depute said Duncan targeted the first girl at his home in Lossiemouth in 1995 or 1996, when she was aged seven.
He said Duncan touched her inappropriately.
He added: "He did not say anything to her, didn't look at her, and was looking around the room as if to make sure people didn't see.
"There was a long tablecloth and his hands were underneath it at the time.
"It lasted for a couple of minutes and then he moved away.
"She didn't know what he was doing and didn't say anything at the time.
"It was a couple of years before she was back and exactly the same thing happened from the first day she arrived.
"People couldn't see what was happening because the tablecloth was so long.
"It made her uncomfortable and frightened."
Duncan's abuse of the youngster continued over several years.
Dignan said the second girl told police she could not remember the exact date the abuse started as it began "as far back as she can remember."
The girl, who is now 25, was abused at two properties in Kilbarchan and Duncan's Lossiemouth home.
He would make her sit on his lap with her back to the living room door and touch her inappropriately – then give her sweeties or money.
And he began abusing the youngest girl when she was just six.
She was so young when the abuse started that she thought it was normal.
He would regularly abuse her, putting a blanket over her legs and touching her private parts – then giving her money.
His abuse only came to light in June 2014 after one of his victims had a child of her own.
He then went to Lossiemouth police station and confessed what he'd done to the girls, who can't be named for legal reasons.
He then wrote a letter to a family member saying: "I was bad. I done something I shouldn't have.
"I'm sorry for what I done and will accept any punishment I get."
Duncan was arrested and charged over the abuse and pleaded guilty to six charges of lewd, indecent and libidinous practices last month.
Sentence was deferred so he could be assessed by social workers and, when he returned to the dock this week, Sheriff Fife jailed him for 34 months for the "disgusting" and "despicable" offences.