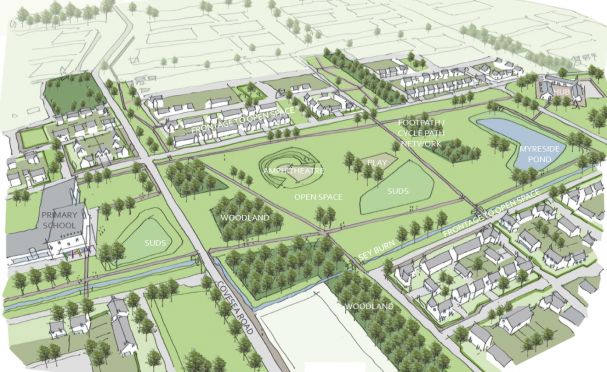 New images have emerged showing how a new development of 1,500 houses and a primary school north of Elgin could look.
A pre-application notice has now been put to Moray Council by Robertson Homes and Pitgaveny Estate for their project at Findrassie.
It is proposed for 275 acres of land between Lossiemouth Road and Duffus Road.
As well as 1,500 houses, the scheme has earmarked space for community facilities, cycle paths, woodland, an ampitheatre, a cafe and a 30 acre business park.
The developers have said the first planning application is likely to be for around 300 houses, 75 of which will be constructed as affordable homes.
It is estimated that the project – which was the largest comprehensive multi-use site in last year's Moray Development Plan – will take about 25 years to construct.
Rebecca Russell, co-owner of Pitgaveny Estate, said she was happy to have joined forces with Robertson Homes for the project.
She said: "It is important to us to work with a local business with experience both in Moray and nationwide.
"We have worked with Robertson before, but Findrassie is an undertaking on a much larger scale with high expectations, and we are confident this is the right company to take the development forward."
Ms Russell's business partner and brother Crinan Dunbar added: "As owners of Pitgaveny, my sister Rebecca and I want Findrassie to be a place that local people love to live in and are truly proud of.
"With Robertson on board, we are now ready to deliver."
Based in Elgin, Robertson Homes said the proposals will fit in well with development plans already established for the region.
The firm's managing director John Murphy said: "Findrassie presents us with a wonderful opportunity to create a whole neighbourhood, with a school, community facilities, business premises and shops.
"The Findrassie Master Plan is one of the most generously landscaped we have worked with, and it allows us to create a community with excellent links to the town and quality housing of all types and sizes."