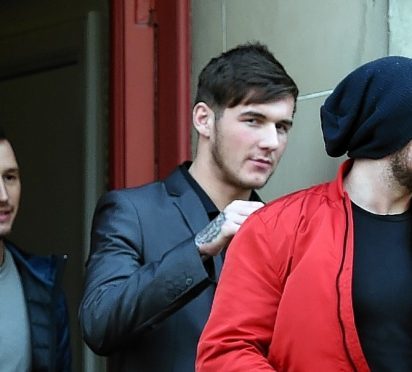 Elgin City's stand-in captain will miss the last vital away games of the season after being put on a curfew for assaulting a paramedic.
Footballer Darryl McHardy lashed out at Kris O'Neill when he attempted to make the peace during an incident in an Elgin nightclub last summer.
The 20-year-old deliberately barged into a customer near the bar of Joanna's, and then butted off-duty paramedic Mr O'Neill when he tried to calm the situation down.
When McHardy admitted the offence last month, Sheriff Olga Pasportnikov said she was considering imposing a restriction of liberty order – sparking concerns he would have to miss important fixtures and training sessions.
And yesterday, those fears were confirmed when she imposed a five-month curfew – meaning McHardy must stay at home between 7pm and 7am each day, ruling him out of any upcoming away matches with his Scottish League side.
With games starting at 3pm, he would be unable to make it back home to 26 Ben Aigen Walk, Elgin, in time.
Last night the club declined to comment on the impact the decision would have on Elgin City's bid to win the League Two title. They are currently sitting third in the league and just three points from the top spot.
McHardy – hailed by the club as a "linchpin in defence" – was given the captain's armband during centre back Jamie Duff's three-month absence with a groin injury.
During the hearing at Elgin Sheriff Court yesterday, defence agent Matthew O'Neill urged the sheriff not to impose the curfew.
He told the court: "A letter was received from Mr McHardy, which was unsolicited and shows that he does realise the position he holds in society. He plays for a local club and is very well known and progressed within that role in the last year or so, and the letter is reassuring to see.
"The team has been making good progress this year. A restriction order may mean that when the team requires to travel some distance, Mr McHardy misses some away games."
The court previously heard McHardy had been at a wedding dance before heading to the club on Sunday, August 16, and had been drinking heavily throughout the day.
After butting off-duty paramedic Mr O'Neill, McHardy left the club – with his victim's blood spattered across his face.
As he left, he told door staff the blood was his own as he had been attacked.
He later repeated the lie to police officers when they stopped to question him.
It was only when officers found the wounded Mr O'Neill that they realised what had happened, and viewed CCTV footage which confirmed his version of events.
The court was shown the film, which depicted McHardy – wearing a black waistcoat and white shirt – committing the vicious assault. Mr O'Neill was taken to Dr Gray's Hospital, where medics sutured a deep cut to his nose, which will leave a lasting scar.
Sheriff Pasportnikov told McHardy yesterday: "You have left a young man disfigured for life and with issues affecting his confidence. He also had to take time off his job.
"I have read the letters about any restriction of liberty impacting your football and the team.
"That said, you want to make a career out of being a footballer and part of that is being a role model."
She ordered the footballer – whose primary earnings come from working as a builder with his father – to pay £1,000 in compensation to his victim, and to carry out 160 hours of unpaid work within nine months.