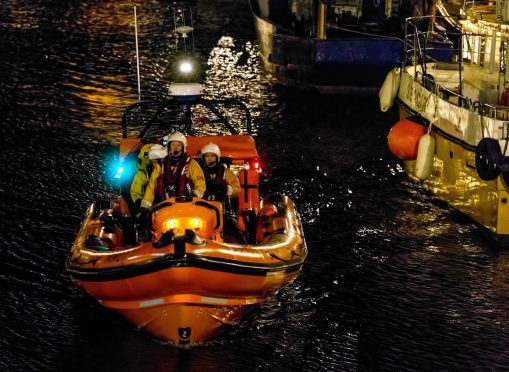 The RNLI is trying to find the person who sparked a massive search and rescue operation with a radio distress call at the weekend.
Aberdeen Coastguard picked up a mayday call from a marine radio shortly after 10pm on Saturday, warning of a "person in the water, Macduff Harbour".
Emergency operators were not able to re-establish contact with the caller and dispatched Macduff lifeboat, Lydia Macdonald, with her volunteer crew to search the harbour area.
Teams from HM Coastguard bases at Banff, Gamrie, Portsoy and Portknockie were all mobilised and sent to the Banff Bay area to perform a coastline search.
Meanwhile, a coastguard helicopter, Rescue 951, was also scrambled from Inverness to support the operation.
The massive search effort continued until around midnight when the volunteer crews were stood down.
Last night Macduff RNLI coxswain Chassey Findlay urged the mayday caller to come forward. He said: "I am concerned the mayday call came from someone with access to a marine radio.
"Making a mayday call on a marine radio is a serious as calling 999. It is something that should only ever be done in emergencies.
"I would ask whoever it was that made the call, to come forward. It may be that the call was made with good intent, but was a false alarm."
Volunteer crew member Ritchie Wallace, who has recently completed the RNLI's Search And Rescue Navigation course, added: "After launching, we carried out a search of the harbour basins, before moving out to Banff Bay.
"We continued to perform our search in the bay and around the mouth of the River Deveron. We were supported in the search by the Buckie lifeboat and Rescue 951 from Inverness."
Mr Wallace said that the operation was an opportunity to put the skills learned at the RNLI's Poole college into action, and that it was "fortunate" nobody was found to be in danger.