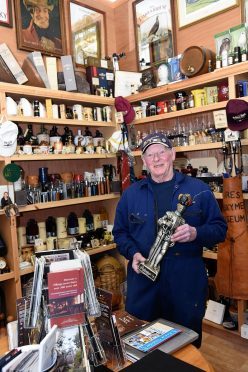 A museum curator has been forced to call time on a Moray visitor attraction after almost dying in a swimming pool.
John Mackintosh has spent the past 35 years building up and astonishing collection of whisky-related exhibits.
But earlier this year he was declared clinically dead after his heart stopped while he was taking a swim.
The 69-year-old has now decided that he no longer has the energy to continue running the museum at Forres.
Visitors from all over the world have visited the attraction, but it will close its doors for the last time on Monday after the Spirit of Speyside Whisky Festival at the weekend.
Mr Mackintosh said: "We get people from America and Europe visiting quite regularly. They like seeing the old copper stills.
"It just opens their eyes to whisky."
Items in the collection include artwork and memorabilia dating back almost 100 years.
All the exhibits in the museum, which features shelves packed with water jugs, glasses and bottles, are now up for sale.
Mr Mackintosh said: "It's all the old things, like penknives, ashtrays, keyrings, all the things that you don't get from distilleries these days.
"I can't keep it all. It will all just end up in boxes."
Offers have already been received for the vast collection and the whisky fanatic is expecting commercial interest from businesses keen to create displays in hotels.
Plans were in place to transfer the running of the museum attraction to Forres Heritage Trust but Mr Mackintosh has been forced to call it a day earlier than he would have liked.
He said: "I was clinically dead 13 weeks ago. I was swimming in a pool and the water was freezing.
"I thought I was bound to heat up once I started but I went the opposite way. I ended up in the bottom and a defibrillator was fired to bring me back.
"It's not as easy to do things now and I have to keep warm. I just don't have the energy for it now."
The museum, in the former police station at the town's Tolbooth, opened three years ago and about 800 people visit it annually.
Independent Forres councillor George Alexander, who is also chairman of the town's heritage trust, said: "John has a phenomenal collection of stuff. It's his personality that makes the experience so rewarding.
"We did try to get a retired distillery worker to take his place but we haven't succeeded.
"It's a pity. It will be a loss."