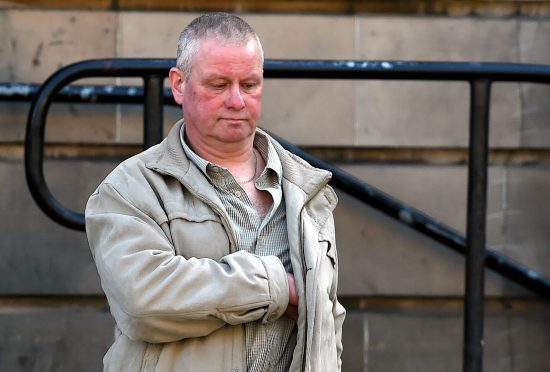 A bungling crook was caught with nearly £20,000 of counterfeit goods after he pulled up outside a house about to be raided by police.
Derek Walker had piles of fake goods, including Ugg boots and Beats headphones, in the back of the white van when he arrived at the rural property in Keith.
Unknown to him, he was spotted by trading standards officers and police who were preparing to raid the house,
After searching Tammie Morrison's home at 1 Rosehall Steading, the teams found 18 boxes of fake goods.
They then seized another 131 boxes from the back of Walker's van, with the items inside having a street value of about £19,000. A further £1,000 in cash was found in the vehicle.
Yesterday, Walker appeared at Elgin Sheriff Court for sentencing after previously admitting selling goods that could be mistaken for Ugg boots, Beats headphones and Barbour jackets.
The court heard Moray Council's trading standards team had mounted their operation at Morrison's home after noticing cut-price branded goods were being sold on Facebook.
A search warrant was granted for her home before 52-year-old Walker brought her even more dodgy goods on March 30, 2013.
Fiscal Ruaridh McAllister said: "Police and trading standards arrived at the property and parked nearby. While there, they saw the accused drive a white van up to Miss Morrison's house. After that they then executed the search warrant."
Delivery notes from D&P Fashions were found inside the home.
A cheque book and receipts from the firm were found in the van and during a police interview, Walker admitted he was a director of the company and had sold the goods to Morrison.
Defence solicitor Ian Maltman said: "Mr Walker was approached by a third party with goods to sell and foolishly agreed.
"At the time he did not appreciate the seriousness of the matter, viewing it as a victimless crime and not appreciating the wider significance."
Sheriff Olga Pasportnikov was not convinced however, and suggested Walker, of 11 Roseneath Gate, East Kilbride, had targeted Moray because he thought he would get away with his crime.
She said: "I note that you reside in East Kilbride and from the social work report you particularly targeted the Elgin area because it was less likely you would be caught."
She fined him £1,350, and made a confiscation order worth £8,300 under proceeds of crime legislation. Morrison was fined £450 for supplying counterfeit goods when she appeared in the same court last month.
Walker's conviction comes just weeks after another counterfeit dealer, Joan Stewart, was ordered to carry out 165 hours of unpaid work. She was caught with £40,000 of fake clothing, shoes and accessories in a hut at a traveller's site in Lhanbryde.
Last night Peter Adamson, the council's trading standards manager, welcomed the latest sentence and said it showed a "clear message" that such crimes were being targeted.
He said: "This investigation sends a clear message that illicit sales through social media and other online channels are not acceptable.
"Counterfeit goods are sub-standard and not the bargain they may seem. Counterfeit electrical products do not comply with safety standards."
Chris Duke, chairman of the council's planning and regulatory services committee, added: "Our trading standards officers are to be congratulated on being vigilant in the fight against unscrupulous traders who dupe the public into buying inferior goods which they purport to be the real thing. I hope this case serves as a warning."