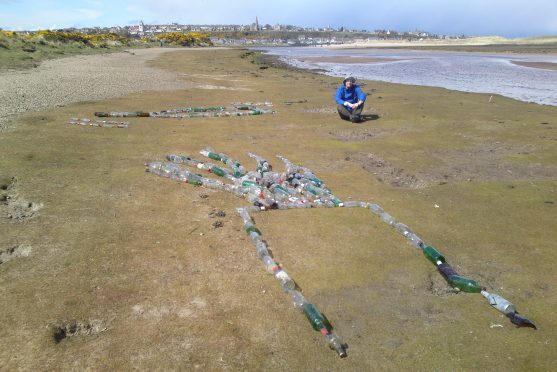 A sculpture has been made from rubbish collected on a Moray beach to encourage people to pick up after themselves.
Pete Miner collected nearly 400 glass bottles from a bank just more than a mile long at the Lossiemouth estuary.
After ridding the gorse from the unsightly litter he created a display, depicting a hand throwing one of the bottles away.
Mr Miner said: "The idea was to draw attention to what is being left there. It can be a case of out of sight, out of mind."
As well as glass bottles, the campaigner also picked up larger bits of rubbish including a gas canister and polystyrene blocks to even a fridge.
Mr Miner, who set up the Coast of Moray Beachcleaners group, collected the 395 bottles from the Lossiemouth beach in only eight days.
He said: "Many of the bottles were almost buried. You can only imagine how many more could be there but are completely covered up, especially the flat vodka bottles.
"You could tell that before I started, nobody else had cleared it for years. There were hundreds and hundreds of them. It took me eight mornings to get them all.
"It's one of the many areas of land that have been forgotten about and nobody is making sure the litter is being cleaned up."
The eco-warrior, who lives in Elgin, believes everybody needs to take more responsibility for rubbish.
It is a cause he has now taken to the firms who use the glass bottles.
He said: "There is a petition going round to get a new scheme for deposits. I found a lot of bottles that people would have got deposits back if they had taken them to the shops though.
"People are obviously just drunk or whatever and are quite happy just to leave them."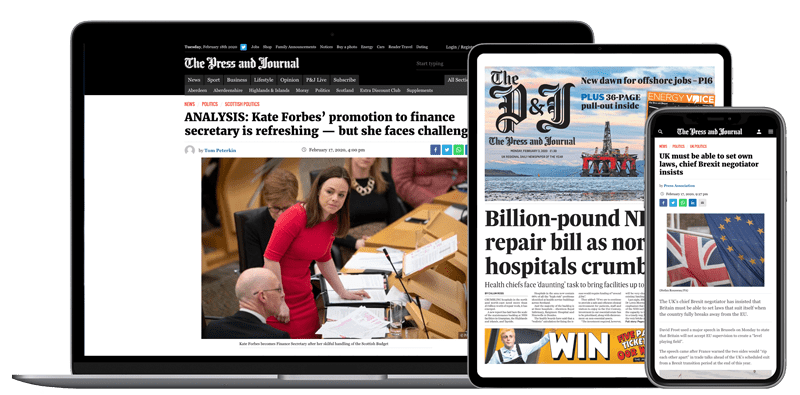 Help support quality local journalism … become a digital subscriber to The Press and Journal
For as little as £5.99 a month you can access all of our content, including Premium articles.
Subscribe