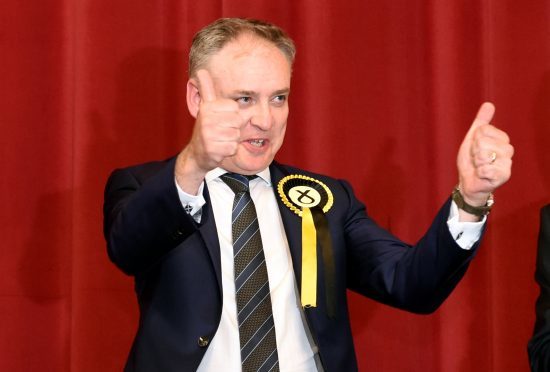 SNP candidate Richard Lochhead faced a voter backlash in Moray, as he narrowly clung onto his seat for a tenth year despite his majority being slashed by more than 8,000 votes.
The Cabinet Minister for Rural Affairs and the Environment has been heavily criticised in recent months for his role in an IT blunder which has left Scottish farmers £500million out of pocket.
The controversy came back to haunt the Nationalist stalwart last night at Elgin Town Hall, when Conservative opponent Douglas Ross secured 12,867 votes opposed to his 15,742 and threatened to stage a shocking scalp.
In 2011, Mr Lochhead powered to the top of the polls with a majority win of 10,944, but that was cut to just 2,875 yesterday.
A jubilant Mr Ross said the region was "no longer an SNP stronghold" as he celebrated coming runner-up with almost 40% of the 33, 421 votes cast.
Mr Lochhead was visibly relieved as he learned the result, which he hailed as testament to the trust residents have in the SNP.
He said: "I'm very proud of the SNP's track record since 2007 in making Scotland a better place.
"It's a huge privilege to represent this beautiful constituency, and I thank voters for giving me the opportunity to serve in their national parliament."
Mr Ross said: "I entered this hall tonight 11,000 votes behind Mr Lochhead, and now there are just 2,875 votes between us.
"For many years, Moray has been seen as an SNP stronghold, and the message from this vote is that this is no longer the case.
"With almost 40% of the vote, I can now say there is an alternative to the SNP in Moray – this is becoming a closer fight than it has ever been."
The 33-year-old Fochabers and Lhanbryde councillor increased his share of the vote from the 2011 election by 6,994 votes.
SNP supporters began the night in confident fashion, but grew more concerned as votes for Mr Ross piled up into the early hours.
Following months of relentless campaigning, Nationalist supporters were "optimistic" that Mr Lochhead would be able to build further on his huge majority.
However, by the time the result neared at 3am, Mr Ross's stack of ballots appeared even with those of the incumbent minister – and SNP insiders conceded the outcome had taken them by surprise.
The seat's other candidates were Sean Morton, who received 3,547 votes for the Labour party and Jamie Paterson, who as Liberal Democrat candidate won a 1,265 share.
Following the outcome Mr Morton congratulated the SNP, but urged Mr Lochhead to "stand up for Moray" in opposing the funding cuts his ministerial colleagues have dealt the area.
And Mr Morton slammed Liberal Democrat Jamie Paterson for failing to appear at the election count.
He added: "The Liberal Democrats need to show Moray some respect, we deserve an awful lot better than this."
The voter turnout for the seat increased from 51.1% in 2011 to 54.1% this year, bringing the total number of voters to 33,543 from an electorate of 61,969.