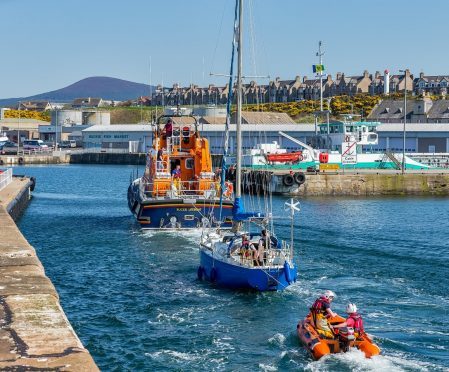 A sailor was injured when a fire broke out on board his yacht and left it drifting off the Moray coast.
The 33ft Melady Fair lost all power when the blaze started and a lifeboat was launched to go to the aid of its two crew.
Paramedics were called amid fears skipper Steve Brockman had been badly hurt in the incident.
The 58-year-old was taken to hospital for treatment to a hand injury after being brought ashore by the Buckie RNLI lifeboat.
His sailing companion – understood to be a woman in her 50s – is not thought to have been injured.
The Melady Fair was more than a mile from Findochty when the drama started.
It is believed that an electrical fire broke out on the yacht, which caused its onboard systems to fail and stopped its engine.
Mr Brockman did not want to comment on the incident last night but said the injuries he sustained were not serious.
It is thought he suffered cuts to his hand.
The experienced yachtsman from Cullen, who has served as the secretary of Banff Sailing Club, has competed in the 280-mile Banff-Stavanger race with the Melady Fair.
The vessel was made by Camper and Nicholson, the oldest leisure marine company in the world, and launched in 1973.
The Buckie lifeboat was launched around 2pm yesterday to go to Mr Brockman's aid.
The crew took him to Buckie before returning to his boat and then towing it back to harbour.
Local councillor Gordon Cowie said it was fortunate the incident happened on a calm day, and praised the lifeboat crew.
He said: "There are a lot of yachts in and around Findochty, and it's unfortunate that these things will occasionally happen.
"Luckily the conditions were good, or it could have turned out worse.
"But all of us in Buckie are glad to have the lifeboat stationed by the harbour and are thankful for the skilled work of its crew."
A spokesman for the coastguard added: "We received a call about a 30ft yacht with two people on board at about 2pm.
"The call described the yacht as suffering engine problems, and it was later towed into Buckie harbour.
"We understand that the man's injury was very superficial, and he was treated by paramedics as a precaution more than anything else."
The Buckie lifeboat was called to a similar incident last week when fisherman Lee Brown's creel boat lost power.
The propeller of his vessel had become fouled with ropes which were floating loose seven miles west of Buckie.