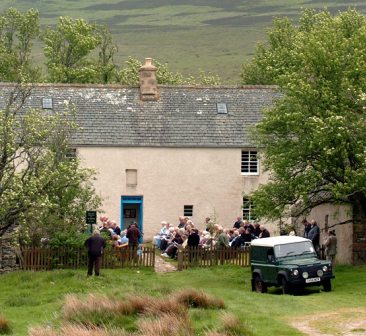 An innovative art project is aiming to breathe new life and colour into a 300-year-old Moray landmark.
Graeme Roger and Chris Lee from Wildbird will use video projections and animations at the Scalan Seminary as well as surrounding Glenlivet and Tomintoul.
As part of the Hidden House project, drawings which are nearly 100 years old will live again in atmospheric displays in the historic setting.
Mr Roger, 40, said: "In some of the farm buildings next to Scalan, there is old graffiti dating back to the 1920s. There is writing about never forgetting the harvest of 1927, drawings of pigs and a story about building a fence in 1918.
"What we can do is use animation [including video] with elements of the old graffiti to bring it to life."
The display is being run in Tomintoul and Glenlivet in September and, as part of the group's preparations, they have been speaking to residents to discover more about the area.
Mr Roger added: "The work we do is entirely collaborative. We want to meet people and get talking to them, learn where they're from, what they are into and what's important to them.
"It's the small things that really become the big things."
The seminary was one of the last places in Scotland where the Catholic faith was kept alive during the 18th Century. The last permanent resident Sandy Mattheson died in 2005, but some of his belongings still remain.
Once the work has been exhibited in Moray, the Wildbird crew and cast members from the community will go to Glasgow as part of the National Theatre of Scotland's Home/Away festival, which also features work from Brazil, Jamaica and India.
Striking imagery and faces from rural Scotland were specifically requested to take their place in the international line-up.
Mr Roger said: "The project is not about being able to perform. The work we do is really get-able. Often it's just enough to walk into shot or stare into a camera, which can be powerful."
An information evening about the exhibition is being held in the Tomintoul and Glenlivet Bowling Club on Thursday, June 2 at 7pm.