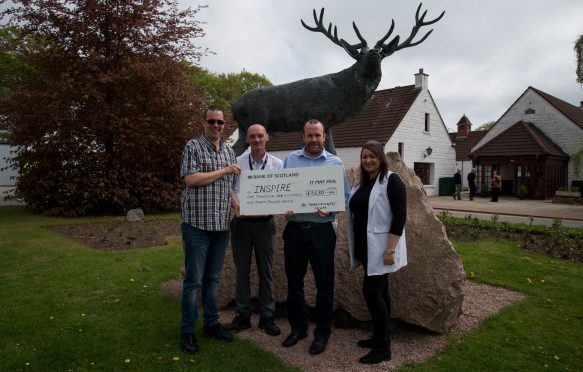 Baxters employees have joined forces in a souped-up fundraising initiative to boost an Aberdeen charity.
The Fochabers food company has donated £1,600 to Inspire to provide residential care and support in the city, Aberdeenshire and Moray.
Half the money was mustered by staff with the other 50% being donated by the Gordon and Ena Baxter Foundation.
Employees chose the charity and organised raffles, invited people to guess the weight of a home-baked cake, and sold calendars featuring wildlife photography to raise the money.
The charity's community fundraiser, Andrew Reid, said: "We are extremely grateful for the fantastic donation.
"This will allow us to continue our vital work empowering the life choices of people with learning disabilities and additional support needs in the local area."
The foundation has now been running for 35 years and has allowed the family firm to help a variety of causes in the north east. Since 2013, the fund has awarded £450,000 to charities and community organisation.
The organisation's manager, Kay Jackson, added: "We are delighted that Baxters' employees wanted to help local charity, Inspire.
"This worthy cause delivers such valuable work and opportunities to people with learning disabilities and families throughout the north east of Scotland.
"The foundation was proud to match the amount raised to give even more to this worthwhile organisation."