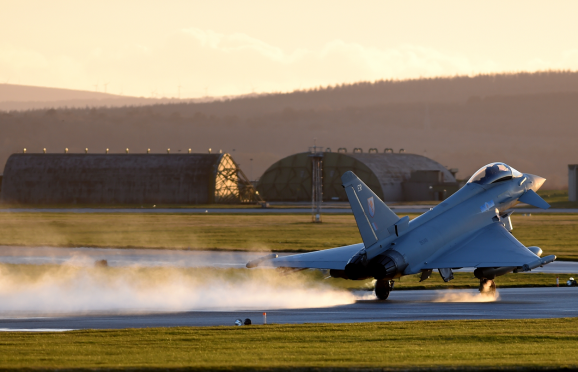 RAF Lossiemouth fighter pilots were scrambled six times in just over a week while keeping a watching brief on the Russians.
The Typhoon crews intercepted 17 planes in nine days earlier this month during a busy start to their peacekeeping mission in Estonia.
The Moray jets from II Squadron have been called to shadow eight Sukhoi fighters as well as spy planes and military transports.
Yesterday a former RAF Kinloss serviceman described the mission as essential to keep Vladimir Putin "in his place".
He said: "The crews will have been briefed before they went out on what to expect and will know how busy they will be kept.
"Going from the pictures of what's been going on, the Russians are just getting in the way, creating a nuisance and causing mischief. They're just making sure we're still there, basically.
"When they fly in our airspace they run without any air-navs, so the air traffic control doesn't know what it is, so a Typhoon has to go up there and fly alongside. That's exactly what they'll be doing in Estonia."
Crews are ready 24 hours a day to investigate unidentified aircraft in international airspace along Estonia's northern coast and border with Russia.
The Baltic state does not have any planes to run the missions itself so relies on Nato nations to carry them out.
The former RAF serviceman said: "It's absolutely imperative that Nato is there. What we don't want to happen is the same thing as Crimea in Ukraine.
"We need to make sure that Putin knows we are there protecting Estonia and the other Baltic states."
Defence Secretary Michael Fallon has hailed the intercepts as evidence the RAF will respond quickly to "Russian aggression".
Commanding Officer of 140 Expeditionary Air Wing, Wing Commander Gordon Melville said the operations show the UK's support to the Nato mission.
He added: "Several years' experience operating in this area indicates that we can expect further similar activity in the months ahead."
Four Typhoons and pilots from the squadron will be in Estonia until August as part of the Baltic Air Policing mission.
A spokesman for the MoD confirmed the six scrambles took place between May 12 and May 21.