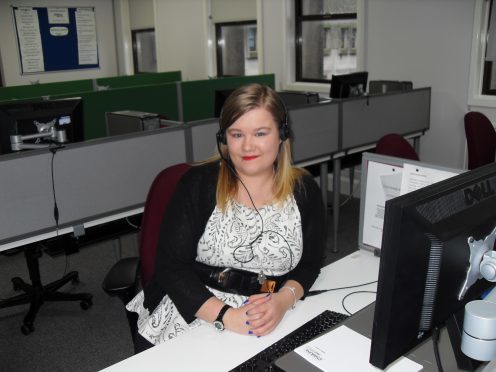 A Childline counsellor from Forres, who travels 80 miles to work as a volunteer, has been nominated for an award.
Sarah Paterson, 24, has volunteered at the charity's Aberdeen base for three years, venturing four hours by train to carry out shifts.
Now, she has been nominated as a Childhood Champion for the National Society for the Prevention of Cruelty to Children awards in London next month.
She said: "I was really shocked when my supervisor told me I had been nominated for the award.
"I really love my role as a counsellor. My shift is 2.30pm to 6pm. Sometimes, I don't get home until midnight as I usually stay late to help with other things."
Typically, Ms Paterson does four shifts a month, answering phone calls from youngsters with problems for Childline.
Initially, she got involved at university when a volunteer gave a talk about the work the charity does.
In addition to helping at the call centre, the Forres resident raised £1,600 by completing a 10,000ft tandem skydive.
She added: "The best part of my role is when a young person tells you that they feel better after speaking to you. It's really important that we can help children in some way.
"I use every opportunity to try and get other people to become counsellors, because they are so important to the service. I even spoke to one girl on the train who later went into the Aberdeen base to get more details on the training."