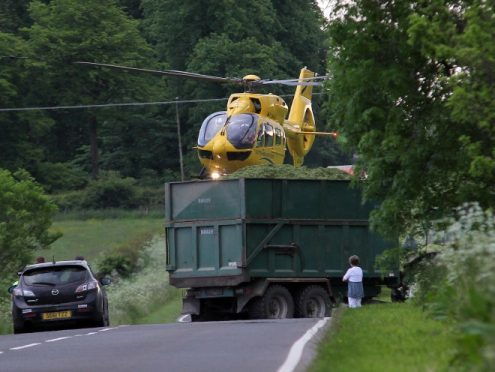 A Moray motorcyclist is in intensive care in Dumfries following an accident.
The 55-year-old man from Bracany Park in Fogwatt, on the outskirts of Elgin, was rushed to Dumfries and Galloway Royal Infirmary on Wednesday night.
Medical staff initially feared the injuries could be life-threatening, but his condition has since improved. Following an operation on Wednesday night the biker had his spleen removed after also breaking an arm.
Last night residents in the affluent, secluded Bracany Park were surprised to learn somebody from the area had been involved in the accident.
It is understood the Moray biker, who was riding a Suzuki GSX650, collided with the trailer of a tractor that was turning right on the A711 near Netherfield Farm, close to Dumfries.
At the time, the trailer was loaded with silage. Following the collision, the bike came to rest under the trailer.
Emergency services rushed to the scene shortly before 6pm on Wednesday after the accident was reported.
The road was closed near Beeswing village as an investigation was carried out by police. A helicopter landed on the road, but it was not needed as the ambulance containing the motorcyclist was given a police escort to Dumfries.
A police spokesman said: "An air ambulance was called to the scene, but it was decided to transport him to DGRI by ambulance."
A local 29-year-old tractor driver was not injured in the accident, but was treated for shock. Police in Dumfries and Galloway have issued an appeal for witnesses to come forward.
The accident happened after police warned motorcyclists to take care during the summer. Officers have been running events across the country to remind riders about responsible driving.