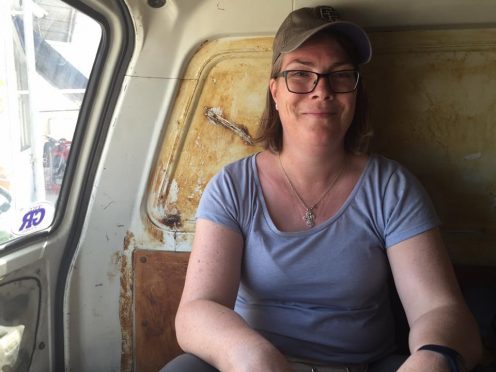 A Moray minister who is working to ease the suffering of refugees in Europe has described the "hellish" conditions of Mediterranean migrant camps.
The Rev Shuna Dicks, who is currently helping out at the Greek island of Chios, says it is quite common for families of 11 to make their home in a "stifling" tent the size of her kitchen.
The Aberlour minister has been involved in supporting refugees for more than six years, but this trip is her first taste of humanitarian work abroad.
She arrived in Chios last week, and has since reflected on the scale of the refugee problem there.
Ms Dicks told the Press and Journal that she was taken aback by the contrast that existed between two very different ways of life on the island.
She said: "I think the thing that has struck us most is the juxtaposition of a busy seaside town with lots of bars and restaurants and yachts in the port, and just a few hundred yards away there being 1,100 refugees sleeping in cabins and tents.
"It is very hot and those tents and cabins are stifling.
"The people we meet are just ordinary folk, and we have got to know a family that has welcomed us into their 'home', and given us great hospitality with what little they have.
"They share the space with another family, with the cabin split in two by a hanging blanket.
"There are 11 people in a space the same size as my kitchen."
Ms Dicks arrived in Chios on Wednesday, and since then has helped prepare food for hundreds of refugees at a street kitchen and provided money for children to buy clothes.
She said rationing out basic meals among the struggling people there was a "moving" experience.
Ms Dicks was a founding member of the Moray Supports Refugees group, and has organised donations of clothes and essentials for those in need.
However, Rev Dicks concluded that there would be no easy answer to the deepening crisis.
She said: "From what we gather speaking to people working here among the refugees, this situation is not going away any time soon and will get worse before it gets better."