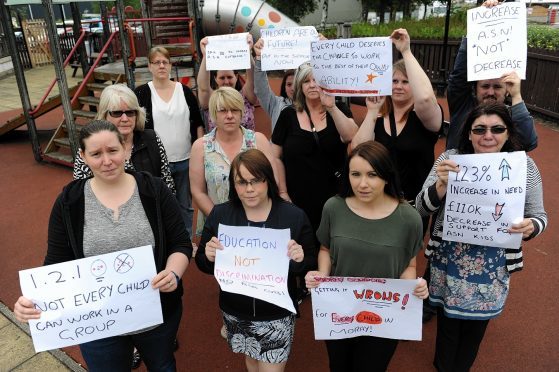 Parents have warned that every child in Moray will suffer as a result of council plans to axe classroom support posts.
The authority is in the process of cutting hours for additional support needs (ASN) staff – despite the number of pupils requiring assistance rising by 123% over the last five years.
Yesterday, more than 20 parents of disabled youngsters from across Moray met in Elgin to protest against the proposals.
The group waved posters with slogans including "Moray Council: getting it wrong for every child" and "education not discrimination – no ASN cuts".
They said they were prepared to take their fight to the Scottish Parliament to try to force the council into a U-turn.
Parents fear the move will have a detrimental impact on every child in the area, as teachers will be forced to spend more time with ASN youngsters.
And one former classroom assistant predicted the cuts would deepen the local authority's staffing crisis and claimed teachers deprived of extra help would "leave in droves".
Moray Council has pledged that all pupils will still receive "appropriate support", but confirmed that some will lose one-to-one supervision.
Several part-time members of staff at Greenwards Primary in Elgin have been advised they will not return after summer, as 300 hours are cut at the school.
Similar changes are expected to come into effect across the region.
Approximately 750 people have joined a campaign to raise awareness of the policy, amid claims it has been "slipped in on the sly".
Parents from Elgin, Keith, Lossiemouth and Forres met at the Brewers Fayre restaurant in Elgin yesterday.
Mum Amanda Goddard, whose husband is stationed at RAF Lossiemouth and whose son attends Elgin's Bishopmill Primary School, said the family had asked to be posted elsewhere because of the move.
She said: "Our little boy has autism and severe learning difficulties, but we've been told he will lose his one-to-one support after summer.
"He's already run away from school once, and that's with supervision."
Nicola Nash, whose 10-year-old daughter attends Hythehill Primary in Lossiemouth, said: "This feels like an attack on the most vulnerable people in our society.
"We are trying to fight for children who can't fight for themselves, it's a scary situation."
Gillian Groves, whose five-year-old son Tom attends Greenwards Primary, added: "No one should have the right to decide that our kids will lose support when they don't know the impact that will have on them.
"This is putting children's safety and education at risk, and stretching hard working teachers."
The secretary of the Elgin branch of the Enable charity, Anne Speake, said the national organisation backed the parents' campaign.
She added: "Other children will suffer too, and the pressure on teachers will be immense."
Moray MSP Richard Lochhead attended the meeting, and vowed to press the council to reverse its plans.
He said: "This has created enormous anxiety among parents, they don't know what's in store for their children when they return to school in August.
"I will urgently contact the council asking that no further decisions are taken until parents are fully engaged.
"This is an issue that will impact on all children, not just those requiring additional support."
Moray Council has promised that a full explanation of the policy will be provided when the authority's children and young people's services committee meets today.
A spokesman added: "This item is on the agenda, and officers will be on hand to address many of the issues which have been raised."
Fochabers Lhanbryde councillor Douglas Ross said he would raise parents' "serious concerns" during the talks.