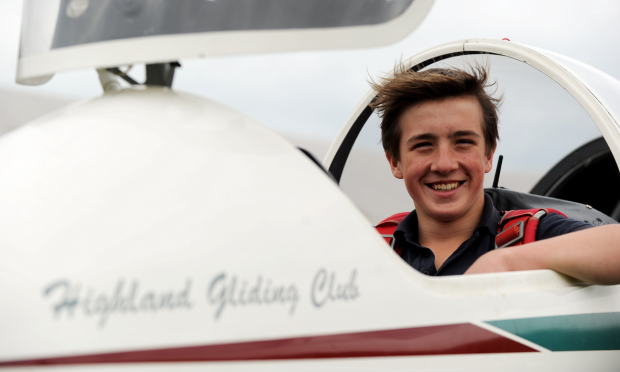 A Moray teenager has become Scotland's youngest pilot after going solo in a glider on his 14th birthday.
Ruari Tait was towed to 2,000ft to enjoy views as far away as Wick before serenely returning to the landing strip near Elgin.
After completing two test flights in the morning at the Highland Gliding Club the Gordonstoun pupil was allowed to take the controls on his own.
Despite being hit by a side-wind during the landing, Ruari was unshaken as he touched down.
Proud family on the ground described the flight as having gone like "clockwork" and had birthday cake ready to celebrate the Birnie teenager getting his wings.
Ruari said: "I've been gliding since I could touch the pedals.
"The flight was great, really exciting. It was very different being up there on your own, it felt more free and light."
Ruari's father Robert, who is chairman of the gliding club, towed the teenager into the air before releasing the cable.
Two years ago the duo were forced to bail out of their glider after half its wing was cut off in a mid-air collision at 4,000ft.
The dramatic incident made Ruari, who was 12 at the time, also the youngest person in Scotland to complete a solo parachute dive.
A proud Mr Tait admitted to some nerves as he watched his son take control of an aircraft on his own for the first time.
He said: "I was the last person to have any contact with him on the ground.
As a parent, that's quite a hard thing to do. I'm just so impressed with the way that he's gone about everything."
A change in the law, dropping the minimum age of solo flights to 14, has enabled Ruari to claim family bragging rights after getting one over on his brother Ian, who reached the landmark at 15, his father, who was 16, and brother Douglas, who was 17.
Gordonstoun principal, Simon Reid, said: "At the time of the accident he showed remarkable composure and it is hugely impressive that he returned to flying and has become the youngest Scottish person to fly solo."