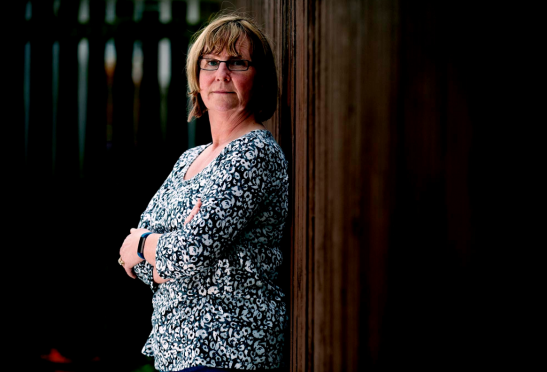 A charity fears it could be forced to turn domestic abuse victims away due to a £20,000 funding shortfall.
Moray Women's Aid receives about 700 calls from vulnerable women every year, while providing hands-on support to 300.
But with domestic abuse crimes on the up, the group last night revealed it is struggling to cover its increasing costs – with boss Elle Johnston fearing they may have to turn people away.
The council slashed the charity's funding by £18,000 by three years ago, with volunteers trying to fill the void by collecting £10,000 a year through fundraising.
Last night however, service manager Mrs Johnston admitted staff were even trying to raise enough cash to cover basic expenses, such as petrol so they can go out to visit clients in need.
She said: "It might get to the point where we have to turn women away. We are continuing to try and provide the same level of services, we have managed that to date because we fundraise in our spare time.
"It's now got to the point where we are fundraising for our own petrol money, just basic expenses. We've got to go out and visit the women, there's no way of getting round that."
Earlier this week, the council's communities committee heard that domestic abuse crimes in the region had jumped from 636 in 2012/13 to 740 in 2015/16, an increase of 16%.
Moray Council awards the charity money for respite accommodation, while the Scottish Government pays for children services. The group also got lottery funding to pay for an advocacy service for women in high-risk cases.
However, the work it does to tackle drug and alcohol addictions, and to help with mental health, are at risk from the shortfall.
And Mrs Johnston said last night she was not sure how the group would get through next year.
She said: "I'm sure they would just go on another waiting list somewhere, that's my belief. We get women who turn up with nothing. No money to buy nappies, toiletries or basic things.
"We have to fundraise for things like that. We're going to hold it together this year but I have no idea what we're going to
do after that."
Elgin City North councillor Patsy Gowans, who is also a board member on the charity, fears any cutbacks could have repercussions on the local authority, which is also battling to balance the books.
She said: "Moray Women's Aid is a place of safety in a time of crisis. It's a unique way of helping vulnerable people.
"If they can no longer operate to the same extent then what happens to the people they help? That could impact back on the council. We have to prepare for things like that."
Last night, one Fochabers mum who was helped by the group urged local residents to support the team.
Stacy Devlin turned to Moray Women's Aid after being abused by her boyfriend, who admitted his crimes at Elgin Sheriff Court last December.
She said: "I would most likely still be with him if it wasn't for women's aid helping me and supporting me – because of them I realised there was an escape away from the violence.
"They helped me realise it wasn't normal and I shouldn't stand for it. After leaving, I still keep in contact with them to help keep my head clear and keep myself on the right path."