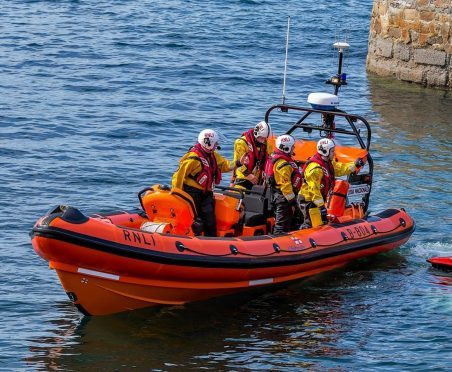 Three lifeboats were launched after two cave-hunting walkers were cut off by the tide on the Moray coast.
Rescue teams scoured the shoreline for more than an hour after the alarm was raised by a worried member of the public.
The woman who alerted the emergency services had been forced to wade back to dry land.
And she feared two other walkers – a man and a woman – she met on the beach between Lossiemouth and Hopeman were not going to get to shore safely.
The Moray Inshore Rescue team from Findhorn and the RNLI lifeboat crews from Buckie and Macduff were all involved in the search.
It was launched shortly before 3pm yesterday after the female walker raised the alarm.
Lifeboat crews kept their eyes trained on the coastline for more than an hour before spotting
The missing man and woman were eventually spotted around 4pm.
A dinghy was launched from the Buckie lifeboat and the couple were plucked from the rocks by RNLI crew.
They were transferred to the lifeboat and taken to Lossiemouth harbour.
A coastguard spokesman confirmed they had been in a safe position when they were located.
The stretch of coastline on the Moray Firth coast is popular with walkers eager to see 3,000-year-old caves which feature carvings dating back to Pictish times.
Water floods into the ancient passages at high tide, making them inaccessible.
The coastguard spokesman said: "We had a call from a member of the public on a coastal walk trying to get to a cave.
"She met two others, also on a coastal walk looking for caves.
"The single lady decided to turn back because the tide was coming in and told the other two – but they carried on.
"The lady had to wade through quite a bit of water to get out again and phoned us because she was concerned about the other two."