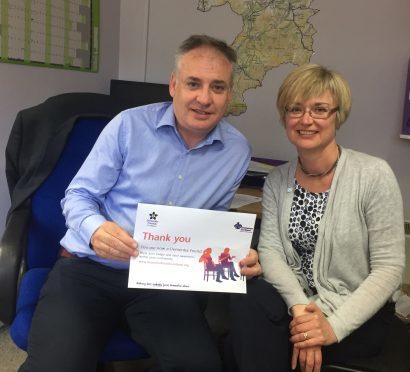 Residents are being urged to make Moray more friendly to dementia sufferers, after figures revealed that 1,700 locals are living with the condition.
Moray MSP Richard Lochhead has launched the drive after meeting representatives from the Alzheimer Scotland charity's Elgin branch.
The politician signed up to its "dementia friend" scheme, which encourages people to gain a deeper appreciation of the condition, and to discuss it more openly.
It also offers advice on small acts of kindness residents can carry out to assist those battling the degenerative disease.
Charity leaders say the region's tally of dementia sufferers is expected to rise due to an increasingly ageing population.
And Mr Lochhead has asked individuals and businesses to follow his example by signing up to the "dementia friend" campaign.
The MSP said his meeting with Moray dementia advisor, Wendy Menzies, had been "incredibly eye opening".
Mr Lochhead added: "I think what is so important is that we understand that everyone living with the condition will be affected differently, and that we should always look past the label of having dementia and see the person behind that.
"More than 1,700 people living in Moray have the condition, it is absolutely right that we should all be thinking about how we can help make our communities more dementia friendly."
He explained that simple steps – such as speaking more slowly and taking effort to prevent sufferers from feeling embarrassed by any lapses they make – would make a "big difference" to those with the illness.
He added: "It's vital that we all do what we can to make sure that people living with dementia remain part of their community."
More information on the "dementia friends" programme can be found at www.alzscot.org/fundraising/fundraising_in_your_workplace