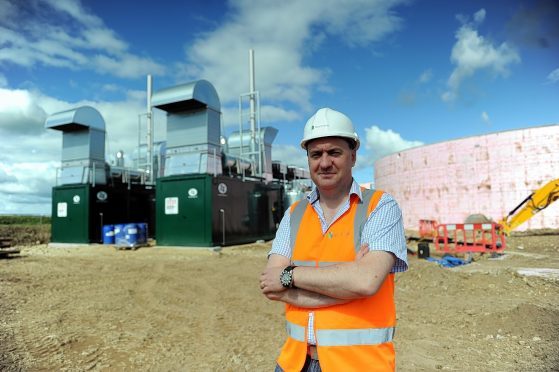 Farmers across Moray are poised to receive a major cash boost as acres of countryside are used to fuel a £5.7million gas plant.
Developers say a massive renewable energy project, at Wester Alves Farm, will provide security for the region's agricultural sector amid uncertainty created by the UK's decision to leave the European Union.
London-based renewable specialists Qila Energy has joined forces with historic landowners Moray Estates to build the plant, which will provide enough energy to power 2,000 homes each year when it goes live in November.
Farmers in the region will profit by selling waste, which would previously have had no value, to generate electricity.
Thousands of tonnes of grass silage, crops and manure from nearby farms will be fed into the large containers on the site every year.
Moray Estates' managing director, Andrew Howard, said farmers could expect "business as a whole" to benefit by tens of thousands of pounds annually through the scheme.
Last night, the Moray Chamber of Commerce welcomed the development while anti-wind farm campaigners hailed it as "more sensible" way of generating power than turbines.
Mr Howard said: "This is a big project but we can fully supply it from our own farms.
"As we plan how to feed the plant, it may well be that we ask some of our neighbours to supply more.
"We will talk to them about what that could be, whether it's surplus farmyard manure or other agriculture waste products."
He also explained how the scheme could provide some "stability" to an industry whose financial future has been cast into doubt.
Mr Howard said: "There is no getting around the fact that farming has become a more volatile business now.
"We are probably entering a period where other factors will start to have an impact.
"There is real uncertainty over EU Common Agricultural Policy payments, and what difference that will make.
"We have a substantial farming operation which makes us more exposed to volatile exchange rate markets, so this will give us a stable income."
Qila Energy's project engineer, Ewan MacGregor said the firm had similar schemes under way near Inverness Airport, and that Moray's fertile farmland made it an ideal area to site a new plant.
Mr MacGregor said he envisioned a bright future for this type of renewable energy production, as plots caused less angst among rural residents than wind farms.
He added: "Wind farms are much more visual, whereas these developments are very localised.
"The other benefit is that these can keep supplying power for the grid regardless of whether the wind stops blowing."
A Qila Energy spokeswoman said 3,000 acres of land in Moray was available to aide the project, but that she expected less than 1,000 to be used.
The technology behind the anaerobic digester has been compared to a "large cow's stomach".
Bacteria in the digester will strip energy from the crops tipped into the plant to generate methane.
Turbines then use the gas to create electricity, which is sold to the National Grid.
Digesters have been found to be more reliable than other forms of renewable technology, generating electricity up to 95% of the day.
A Qila spokeswoman said: "The anaerobic digester has been designed and built by our expert engineers to produce methane from farm manures and crops.
"Local jobs are created within the farm to assist with daily plant feeding and maintenance of the site."
Only two or three people will be employed at the site to run the plant, but dozens more posts will be sustained across the hundreds of acres of farms being devoted to producing feed for it.