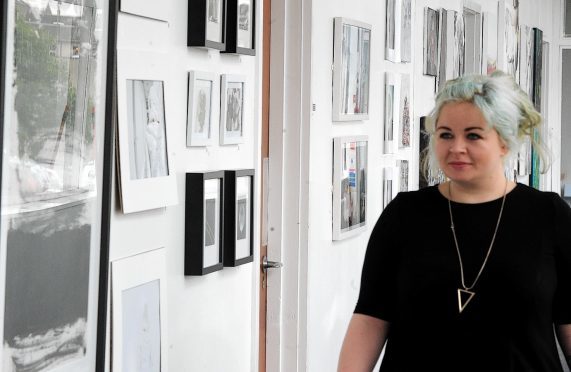 An abandoned Moray office block that has been transformed into a haven for artists has become the setting for a unique exhibition showcasing the region's talents.
Members of the MC3: Creative Spaces initiative have refurbished rooms in the former Royal Mail delivery office on Elgin High Street, and have leased them to individuals eager to earn a living through their creative skills.
The group has now set up a gallery in an expansive corridor of the building, which displays some of the thought-provoking pieces produced there.
The Emerge exhibition is being held across the next fortnight, and contains work created in a range of media.
The group staged a preview last night, and while the showcase serves mainly as a platform for local talent, work submitted from across Scotland has gone on display.
Among the exhibits are finely detailed monochrome representations of horses powerfully galloping into frame and photographs capturing local nature.
One of the most striking pieces is a sculpture of a human head – which features a figure climbing a ladder from its apex.
Project leader Charis Edward Wells says the ultimate goal of the current display, and the centre, is to boost Moray's arts trade.
She said: "The exhibition is open to anyone who wants to show their work, but its specifically for emerging artists.
"We don't have a base in Elgin to regularly display pieces of contemporary art, and this is a chance for us to let people see what we are capable of.
"We are opening our doors to the public, we want people to see the exhibition and to meet our artists during open studio sessions during the day.
"MC3 is about supporting creative businesses, and the building takes in a real mix of people."
The complex currently houses five painters, a film and photography specialist and a coffee maker who roasts his own beans in one of the rooms.
The group took on the lease for the High Street property in February, and transformed seven rooms that had lain empty for three years into 18 studio spaces.
Ms Edward Wells said that the artists working in the building had created a "real community spirit" since taking up residence there.