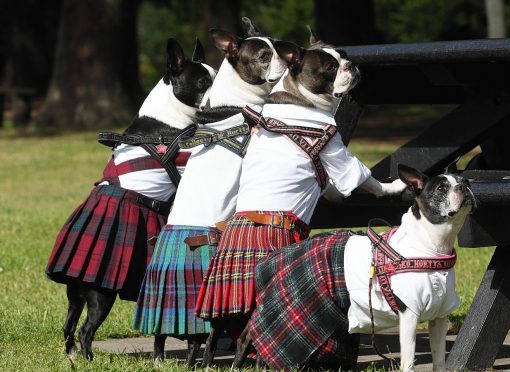 A crew of patriotic pets are kilting up ahead of the Highland Games in Forres this weekend.
Four tartan-clad Boston Terriers are aiming to catch the eye of onlookers at Grant Park on Saturday, when they parade about its grounds in their distinctive attire.
Owner Ailsa Kelly, who runs a dog walking business in the town, has made a habit of parading her kilted pets around Highland Games gatherings and bag piping contests in the area.
The 49-year-old said that the squad, which is made up of mums Mookie and Ripple and their offspring, Chatter and Tara, "love getting dressed up".
She added: "When they put their kilts on they know they will be going somewhere special, and they know they will get a lot of attention."
Ms Kelly collected Mookie and Ripple from Boston, in America, and when the pair had puppies she decided to keep a daughter of each.
The animal enthusiast said she happened upon the idea of clothing her pets in traditional Scottish attire after spotting a set of four child-sized kilts in an Elgin charity shop.
She matched them with some smart miniature shirts, and since then has brought them to a selection of local events.
The pets are experienced agility dogs, and have performed at shows across the UK, so Ms Kelly says they are accustomed to appearing before large audiences.
She added: "Because of the competitions, they are used to crowds and the likes of Highland Games does not faze them one bit.
"People always want to take pictures of them and to clap them.
"They take it all in their stride, enjoying all the attention."